Disclosure: I received product at no charge in exchange for my honest review.
I never realized how many places prefer a clear backpack! We're talking sporting events, concerts, traveling, high schools, and even colleges and job sites prefer clear backpacks for security reasons.
THE SMARTY CO
. has quickly become the industry leader in quality, innovation, and style. With only the typical black clear backpacks available from other places, SMARTY has launched trendsetting colors including Cool Gray, American Blue, and Pretty Pink.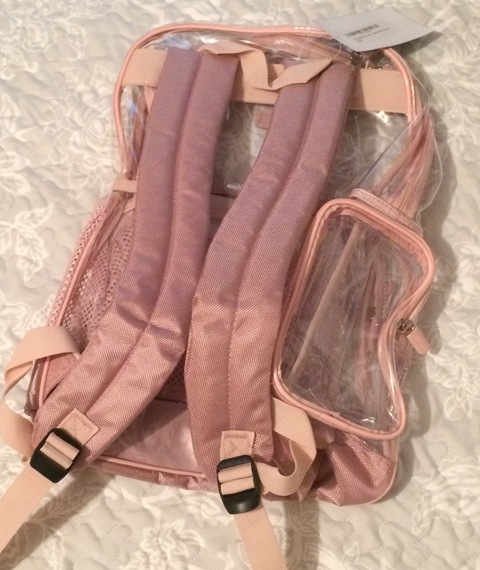 Breeze through security checks without opening your bag, and feel confident that SMARTY's upgraded materials, reinforced stitching, and military grade nylon bottom will last longer than the other less expensive brands. Large Pockets with Smooth Zippers and a Big Water Bottle Holder are convenient features for the modern day student, airport employee, or correctional officer. I LOVE using my SMARTY
clear backpack
for traveling! It holds SO much stuff and it's much easier to find items when I can see through the sides.
SMARTY
Heavy Duty Clear Backpacks
are available in Medium (16.5 x 12.4 x 6.25") and Large (18 x 13 x 6.75"). With world class customer service 7 days a week, SMARTY always offers a Satisfaction Guarantee.
Current Features include:
• Highest Grade Clear Material in the industry (Strong but Soft Feel)
• 55% Thicker Clear Plastic for durability (compare the difference)
• Rugged 1680D Military Grade Nylon Shoulder Straps and Bottom Lining
• 3X Cross Stitching in key areas
• Double Padded S-Curve Shoulder Straps for all day comfort
• Compartment Sleeve for up to 15" Laptops
• Upgraded Strong Zippers and Rubber Pullers
• Big Water Bottle Pocket (bottle won't fall out)
• Mesh Organizer for pens, pencils, calculator, phone, mobile device
• Zipper Pocket to secure keys or valuables
because this Pretty Pink Backpack
is ON SALE for a great price!