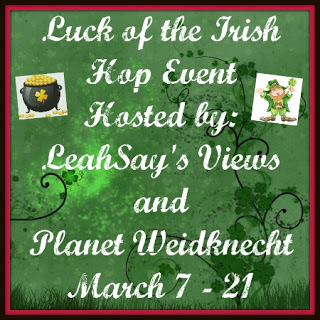 and Planet Weidknecht for the "
Luck of the Irish Hop Event

"

NOTE* If you sign up after March 4th please send me an email for the hop HTML.

The event will run March 7 - 21, 2017.

The

Luck of the Irish

event is not "themed"
When you add your blogs home page link below, you have agreed to the following:
And yes, some of the things listed should be standard, and I've removed blogs from events for not following our simple rules. If you have a question about a prize being acceptable, please ask.
Post your own dedicated giveaway for this event, from
March 7, 2017, at 12:01 a.m. (one minute after midnight) until March 21, 2017, at 11:59 p.m.
Everyone should set their post according to
CST, Post will be deleted from linky without a visible post at 4 AM.
Your Giveaway may be self-sponsored (with a gift card or PayPal ONLY *no exceptions*) or a company-sponsored (prize shipped directly from the sponsor to the winner).
No "surprise packages"
. Giveaway prize must be family friendly and valued at a minimum of $25.00,
not the suggested retail price, the SALE price must meet the $25 minimum.
Blogs without a giveaway post live at 4:00 a.m. on March 7th with ALL requirements will be removed from the linky. Sign up link closes on March 4th, 2017.
***

You are not required to post in advance of the giveaway event, HOWEVER... if you would like to help promote and bring in more participants, please place the event button in your sidebar, and link back to this post so others can join the fun.
Your giveaway post on March 7th must include the following:
Luck of the Irish Event Button
The provided linky "showing/listing" the links to all participating bloggers, no exceptions.
Your giveaway description, along with a photograph, of the NEW prize, along with your contest form.
At least a short descriptive paragraph.
Giveaway Hop reminder and the linky code will be provided at least one day before the hop begins, by
email

(make sure you double check your email)
and in the LeahSay's Blogger Support Facebook Group.
Join the fun and promote your product with an exceptional group of bloggers!
If you'd like to see your product showcased in this event or other events hosted by LeahSay's Views, please contact me at [email protected].
Luck of the Irish March Hop Event (March 7-21)
Add the name of your BLOG, then add a link to your BLOGS HOME PAGE, do not add a post link or it will be removed. Do NOT edit your link to add your hop link. Email your link to me at
[email protected]
. Thank you!