I am focused. I am determined. I am succeeding!
This week, I've lost FOUR MORE POUNDS,
for a total of 13 pounds lost in five weeks!!!!
Thank you Nutrisystem!
Now, granted I had stomach flu over the weekend, so two pounds was illness weight, but I gained it back, then lost it permanently so I know it's real weight loss. This morning I had a delicious garden vegetable omelet, a banana, and a chunk of fat-free cheese. Now if this coffee would just wake me up...
I also have some great news about Nutrisystem! I got an email yesterday that Janet Jackson is the new celebrity endorser of Nutrisystem. She got on the program too and even though she rarely does endorsements, she is partnering with Nutrisystem because she is finding success on the program too! She is helping to launch the new Success program, the most comprehensive weight loss program in the forty year history of the company!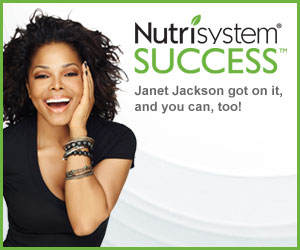 Last night, I sampled one of the new Chef's Table dinners on the Success program. The Moroccan Inspired Chicken with rice and spinach is sooooo yummy. They are now using a new patented steamer bag technology that works in the microwave, so I was anxious to see how it worked. All I had to do was put it in the microwave for five minutes and my amazing dinner was ready! For dessert, I had a Nutrisystem almond coconut chocolate bar. It's hard to believe this is "diet food" because it's all so delicious! A council of professional chefs works together to create their fabulous menu of foods.
Janet Jackson and Nutrisystem are also starting a new charity called NutriBank that will help feed the hungry around the world. For every pound lost on Nutrisystem during 2012, the company will match it with one dollar's worth of nutritious food delivered through NutriBank. How awesome is that? I get to lose the weight and a hungry child gets to gain it. What a wonderful trade-off!
Want to lose weight and get healthy on Nutrisystem?
Join today by calling 1-888-853-4689
or or by visiting http://www.nutrisystem.com/nsblog
FTC Disclosure: In exchange for blogging my progress, I am receiving Nutrisystem foods and services at no charge.