Disclosure: I received product at no charge in exchange for my honest review.
Farmhouse decor is all the rage right now and since I live in a farmhouse, it's only fitting that I'd fall in love with the farmhouse style. You can find pre-made farmhouse decor all across the internet, but it's just more fun to make your own because then no one else has custom-made home decor like yours, and
Stencil Revolution
is the place to go for stencils of all kinds!
Stencil Revolution sent me three of their stencils (my choice) and I'm so impressed with the quality! These are not cheapy, flimsy stencils; rather they are high quality, sturdy, reusable, laser-cut, custom-made stencils. You can even choose the size of stencil that you want for your project. These stencils are so easy to work with and I had so much fun creating my own home decor for much less than I'd pay in the stores.
Once I received my stencils, I had to plan out my projects. I didn't want my projects to look like the ones everyone else can buy on the internet or in the store. For my first project, I used a leftover piece of thin plywood underlayment from our bedroom project of faux shiplap. It's 6" x 12" and I first painted it with one thin layer of white interior paint. I used the
Farm Fresh Eggs
stencil from Stencil Revolution and did a single layer of black with the stencil. When the black paint dried, I distressed the lettering with a sandpaper block, then outlined the letters and images with a smoky blue paint. I love how it turned out!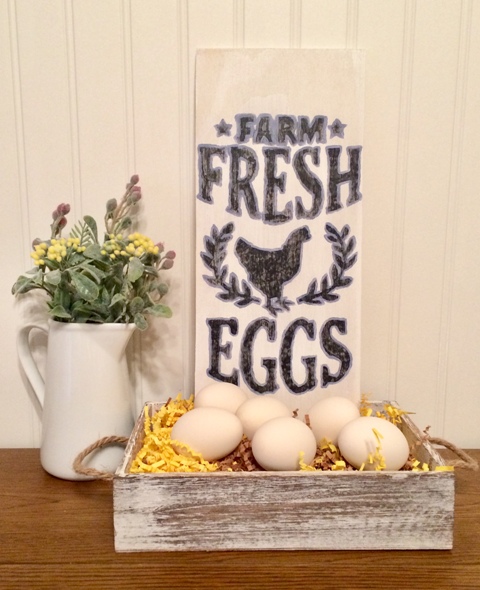 For my second project, I used a stretched canvas in white. I painted the background using two colors of paint - a caramel color and a cream color - with a wide flat brush, moving from side to side, starting with the darker color, then the lighter color, then a blend of the two colors. I love how it looks like wooden planks. Once the background dried, I used my
Rise and Shine Mother Cluckers
stencil from Stencil Revolution with just a single layer of black paint to make it look worn, then added a line above and below the stenciled image, with a few touches of small black lines here and there to give it some depth. I just love having art in my home that I designed and made myself. This one will hang on the bedroom wall above my dresser.
For my last project (and probably my favorite), I used a piece of 100-year old reclaimed wood that already had paint on it that was naturally distressed from weather and age. I cut it down so that it would be perfectly square, sanded the edges smooth and used the
Our Farmhouse
stencil from Stencil Revolution. I love that this stencil comes with the numbers 0-9 so anyone can create it for their own home. I used the year that we bought our Kansas farmhouse. I painted two layers using the black paint so that the design would stand out sharply from the wood. I also connected the cursive lettering and added stems in between the leaves. I am so in love with this piece. I thought about adding something more to the corners of the wood, but I think it's beautifully simple the way it is now so I'm going to leave it like this. Right now it sits on the top shelf of the bookcase in our living room with statues of two little goats.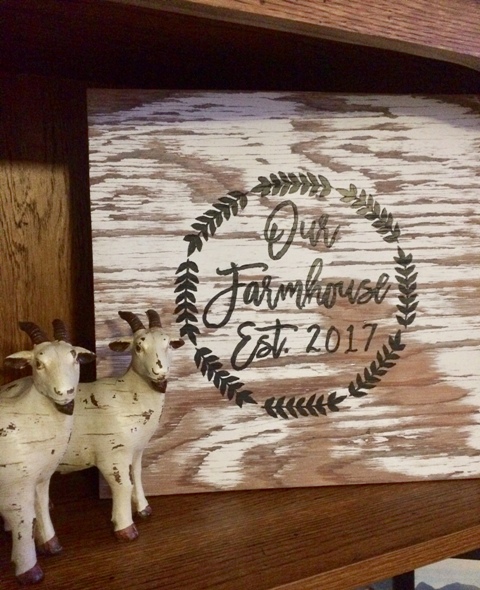 Stencil Revolution can help you easily design custom art pieces for your home too! Check out their huge line of stencils for all kinds of great projects, including wall stencils, mandala stencils, Christmas stencils, home decor stencils, and much more. I will definitely be ordering some more stencils from Stencil Revolution!