Disclosure: I received product at no charge in exchange for my honest review.
If you wish your kids would eat healthier snacks, let me introduce you to
YummySwaps
. Moms can swap out Yummy Snack Bars and Yummy Snack Chips for the not-so-healthy stuff. These yummy-but-healthier treats are perfect for Halloween handout healthy snacks kids, health-conscious kids, back-to-school lunchboxes, after school snacks and backpacks!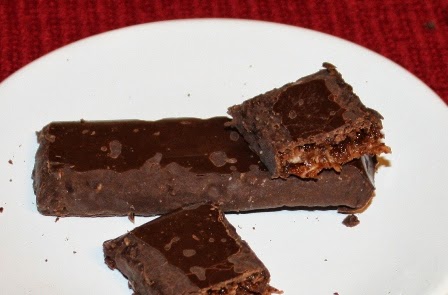 The YummySnack
Chocolate Blast Bar
is a delicious chocolate-coated "better-than-candy" bar is made with real-food ingredients like cocoa, coconut, almond butter and flax seed, and provides a whopping 8 grams of fiber and 100mg Omega 3 with only 8 grams of sugar (compared to more than 20g for most regular candy bars).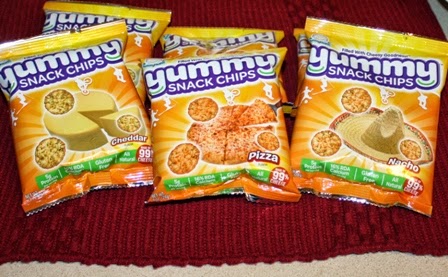 Unlike regular candy and chips, and even many so-called "healthy" kids' snacks, YummySwaps taste like the junk foods kids know and love, BUT they are much lower in sugar, have no processed starch or gluten, and are made with real-food ingredients.
YummySnack Chips
are made entirely of real Wisconsin cheese and all natural seasonings, in three delicious kid-friendly flavors: Nacho, Pizza and Cheddar. With 5g of protein and 16% RDA of calcium per serving, they're a perfect lunchbox replacement for potato chips, cheese crackers, or nachos.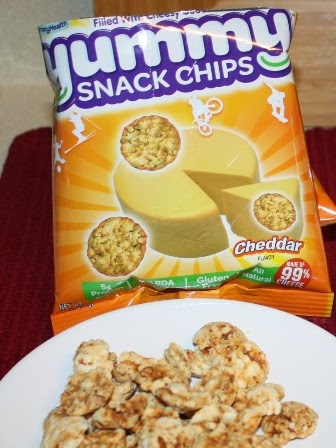 Although my Chocolate Blast Yummy Bars melted a bit during shipping, they are absolutely delicious. Anything with coconut and cocoa is a hit at my house. The Yummy Snack Chips taste great too. Kids and moms will definitely love these!