Owning a home daycare kind of takes the fun out of "back to school" time for me, because my business is open year-round. On the other hand, it's a great time to buy art supplies at a super discount and to see all the awesome new products that have been created in the wake of another year of learning. Lysol sent me a box of products to try and I was really happy to receive them because I can always use germ-killing products in a daycare environment.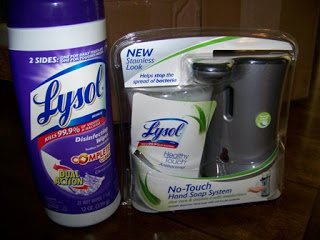 The first thing I opened was the Lysol wipes. I usually buy a wipe that is a store brand and there is a huge difference in the quality. This Lysol wipe has a soft wipe side and a rough scrubber side; both sides have the same 99.9% germ-killing capacity that is associated with all Lysol products.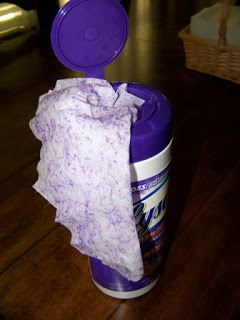 I used the scrubber side on my ceramic stovetop and was very happy with the cleaning power. The Crisp Linen scent is nice too. I also love that it kills Cold and Flu Viruses, including the Pandemic 2009 H1N1 Influenza A.
It took a strong pair of scissors to break into the plastic surrounding the Lysol® Healthy Touch® No-Touch Hand Soap System. The system is gray-colored, which matches my stainless steel kitchen appliances. The included antibacterial soap comes in a plastic bottle, ready for insertion into the Soap System. It was easy to assemble, came with batteries, and looks great in my kitchen.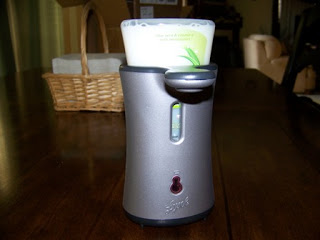 I put it near the kitchen sink, flipped the on switch, got my hands wet, and put my hand under the dispenser. It worked perfectly and I've been using it about four days now, with complete satisfaction. I love the smell of the soap that came with mine, Aloe Vera & Vitamin E with Moisturizers. Since I wash my hands dozens of times of day for daycare, it was nice not to have to deal with dry hands or germy squirt bottle tops.
The
Lysol website
has lots of tips for cleaning and disinfecting, but most valuable to me as a teacher was the handwashing poster download. I'm going to laminate it and hang it by the bathroom sink for the kids. The Lysol Facebook page is currently running a promotion called the Lysol® No-Touch® Stainless Kitchen Sweepstakes, where you can enter to win a Stainless Steel Kitchen Set from Whirlpool®.
If you would like to win the Back to School package of products that I received, including the wipes and soap system with soap, you can enter for my
"Healthy Child" prize package
in the Back To School Giveaway Hop, which also includes SmartyPants Gummy Vitamins and Stop Bugging Me! Spray Bottles.
Disclosure: I received these products at no charge to review for you. Opinions are truly mine.