Disclosure: I received product at no charge in exchange for my honest review. Post contains affiliate link.
It truly was a perfect steak, likely one of the best I've ever eaten in my lifetime. My husband is a grilling genius! When we moved from Hawaii to Kansas in 2016, we didn't own any housewares, and buying a grill seemed frivolous when we needed so many other things. About a month ago, our neighbor was selling a barely used grill and we snapped it up at a great price, just in time to start grilling up these amazing beef cuts from
FarmFoods
!
One of the cuts of beef in our Beef Sampler Package from
FarmFoods
was a Beef Top Round. It is a huge cut of steak and nearly covers a dinner plate, with easily enough beef for two adults. Our entire Sampler Pack came frozen in dry ice for shipping, so we defrosted the Beef Top Round for a few hours prior to dinner.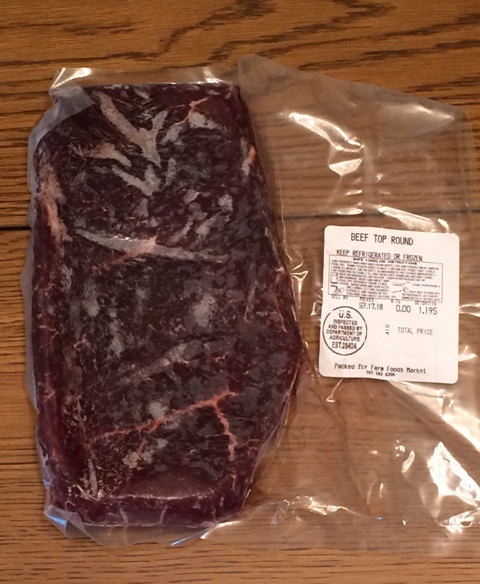 I told my husband I needed him to write down what he used and did to make this perfect steak, so I could share it with you. First of all, you need to marinate the steak to make it tender. Hubby says to apply Adolph's Meat Tenderizer and McCormick's Montreal Steak Seasoning to both side of the steak. Wet each side with 1/2 tablespoon of Worcestershire Sauce, then poke some holes in the steak with a fork to aid in tenderizing. Sprinkle 1/4 tsp. minced garlic on top and let marinate 30 minutes on a plate.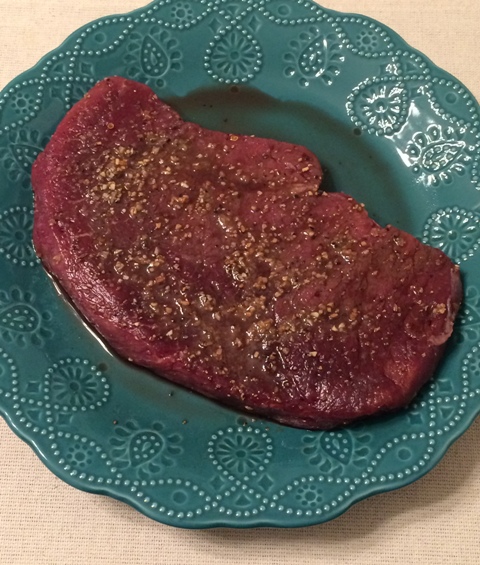 While your steak is marinating, preheat your outdoor grill. Hubby says preheat to approximately 400 degrees F, or the use of one burner on medium. Grill the steak on the first side for 5 minutes, then flip it over and grill for 3 minutes on the other side. Remove from heat, let rest a minute, then serve. Our steak was so perfect, so tender, so delicious, with its soft center and just-barely crispy edges. My mouth is watering just looking at the pictures again!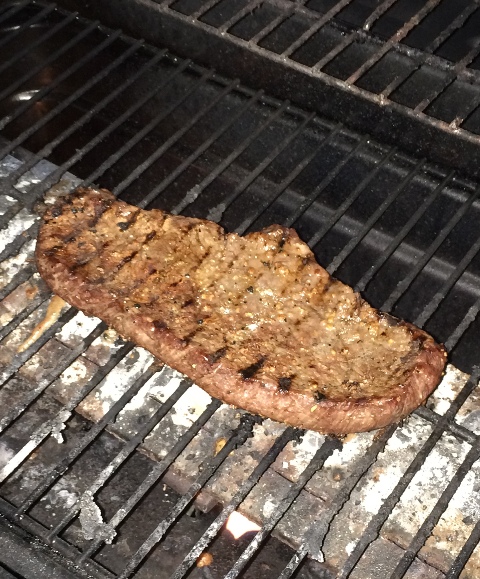 FarmFoods
is an online retailer of grassfed beef. They sell grassfed beef, with NO hormones or antibiotics, directly from partner farms (small local family farms), and help American families eat more healthy in a very affordable way. This is only the second cut of beef we've had so far out of our Beef Sampler Pack and I'm already beyond impressed.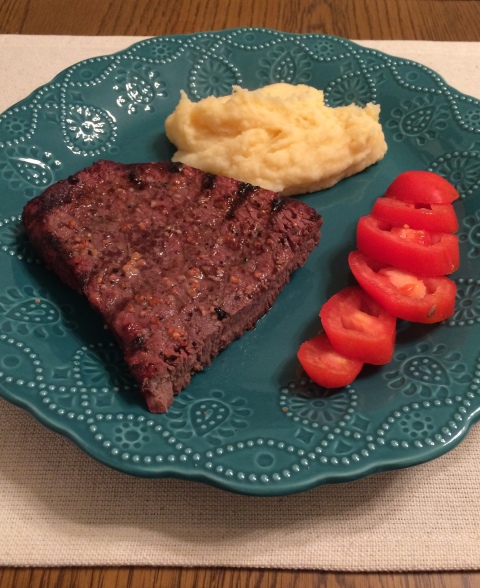 You can buy as much or as little as you want, whenever you need it. It is shipped frozen, directly to your door, and FarmFoods prices beat the grocery store and the meat market. This is the best way to feed your family beef because you will know exactly where your beef comes from, and how it was raised. If you are looking for a better way to feed your family, I highly recommend FarmFoods!
Shop at FarmFoods Today!