Visit Pflugerville, Texas, and check out the brand new Hawaiian Falls! Not only do they offer a fabulous water park, they've JUST opened their new Adventure Park too!
The 23-acre, year-round regional entertainment venue now features a water park and family adventure park with the Big Island Adventure Trail, Pineapple Express Zip Tour, three-level Challenge Course, six-story Free Fall, Rock Wall and Cargo Climb. Hawaiian Falls Pflugerville is the first water park & adventure park combination of its kind.
"This Adventure Park is a natural extension of our mission to bring families closer together while helping build self confidence," said Hawaiian Falls CEO David Busch. "Our one-of-a-kind Adventure Park provides safe, fun and compelling activities for guests of all ages to explore unknown strengths, push their own boundaries, climb to thrilling heights and experience rewarding physical and mental achievements."
Hawaiian Falls Adventure Park also offers a team-building program for businesses and corporations, school districts, churches and other organizations looking to have fun together while improving communications, instilling trust among team members, learning problem-solving skills, and improving overall effectiveness and productivity.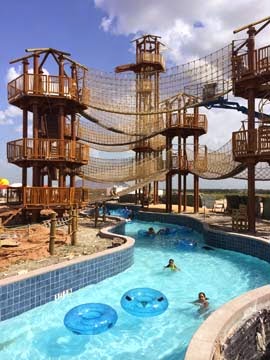 "This is the first time many of these elements in the Adventure Park have ever been built anywhere in the world," said Russell Moy, Adventure Park designer. "We created this unique assemblage of challenges just for Hawaiian Falls. We spent more than two years in the design process before we ever started manufacturing the first piece of steel."
With safety as the top priority, Hawaiian Falls carefully selected a full-body harness and Smart Belay System by EDELRID—considered the safest in the world, according to the San Diego Zoo. The Smart Belay System is a set of two lobster-claw lanyards in which one is always connected to the safety line. Unless one claw is locked on the line, the second claw will not open, ensuring the guest is always secured. Hawaiian Falls also has a minimum of two safety check points for each zip line—one on the ground, and a second at the top of each tower.
Adventure Park attractions:
Shirts or swim suit cover-ups and closed-toed shoes are required for all guests using the Adventure Park. The Big Island Adventure Trail features 18 rope bridges and tunnels on three levels. Family members who are at least 42-inches tall may participate solo, while guests under 42-inches must be accompanied by someone 17 years or older. Weight limit is 250 pounds per person.
A helmet, full-body harness and smart belay system are required for all of the following:
The three-level Challenge Course with 15 different ropes activities on each level, ranging from 2-feet to 60-feet off the ground, for a total of 45 distinct challenges. Guests practice using the smart belay system to navigate different challenges and must demonstrate proficiency on one level before advancing to the next level, finishing the third level with the Tiki Zip Line, for a unique challenge-by-choice experience. Guests must be at least 48-inches tall and weigh at least 60 pounds but no more than 250 pounds to participate.
Pineapple Express Zip Tour includes three 500-foot long, 60-to-15-foot high zip lines that traverse the park. The Smart Belay System is also used on this attraction. Guests must be at least 48-inches tall and weigh at least 60 pounds and no more than 250 pounds.
Free Fall offers the adrenaline-pumping thrill of jumping off a seven-story tower and free falling with the security of a full-body harness and auto-belay system to guide the guest safely to the ground. Guests must be at least 48-inches tall and weigh at least 60 pounds and no more than 250 pounds.
The Cargo Climb requires balance, strength and determination to reach the top of this 45-foot rope ladder. An auto-belay system is used for this attraction.
Use upper body strength and secure footwork to navigate a 45-foot tall Rock Wall. An auto-belay system is used for this attraction.
While the Water Park is seasonal, the Adventure Park will be open year-round for team building and group events as well as fun challenges for the general public. Any daily admission ticket or season pass will provide access to both the Water Park and Adventure Park through the end of September 2014. Some attractions, such as the Pineapple Express Zip Tour, will require a separate fee.
About Hawaiian Falls:
Celebrating more than a decade of bringing families closer together, Hawaiian Falls operates water parks in Garland, The Colony, Mansfield, Roanoke and Waco. The Pflugerville park is Texas' first Adventure Park - Water Park combination. A similar Water Park and Adventure Park is currently under construction in White Settlement (northwest of Fort Worth) and will open later this year. More information is available at
hfalls.com
or
facebook.com/hfalls
.