This event will take place from April Fool's Day (April 1st) 
at 12:01am est through April 7th at 11:59pm est. No foolin'!
It's April Fool's time and we want to have a little fun with our readers. Over 30 bloggers have prizes valued at $25+ - some silly and bizarre; others just plain fun! So take a break from playing pranks and enter to win with us! There is also an awesome $100 GC to ThinkGeek Grand Prize which is open to the US and Canada. The participating bloggers helped fund this great prize, so in order to win it - you need to enter some of their giveaways! Thinkgeek has all kinds of fun and bizarre products from zombie slippers to unicorn meat, so we thought this was fitting!
I'm giving away the Ozeri Artesio Electric Pepper Grinder
(ARV $29.99)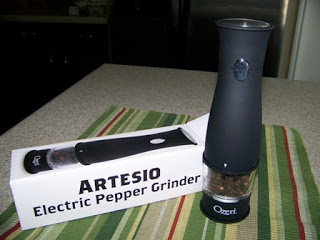 I love to use freshly ground pepper. I always bought the ones at the store that have the lid that grinds the pepper, but now I'm stylin' with my new Artesio. This ultra-chic soft-touch electric pepper grinder is awesome. It comes apart in three pieces...the pepper cup at the bottom, the inner motor with battery compartment and the handle cover. 
I bought a jar of peppercorn (though it also works with salt and spices), popped four AA batteries in the electric pepper mill, and twisted it together. There are even little arrows to ensure it's put together correctly. I held it over a plate and pushed the silver grinder button with my thumb. Much to my surprise, it also lights up the peppercorn cup for a bit of ambiance! Its sleek design is easy to hold and looks great on my table. It works perfectly and I love the smell of freshly ground pepper.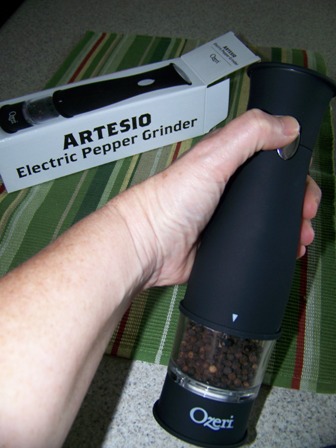 Disclosure: I received this product at no charge in exchange for my honest review. 
To win your own Artesio Electric Pepper Grinder, just fill out the Rafflecopter form below! Good luck!