Disclosure: I received product at no charge in exchange for my honest review.
Give your Thanksgiving host something other than wine this year that will last long after the holidays are over. The limited-edition Demeter Fragrance fall inspired diffuser scents, now in a three-piece set of Cranberry, Pumpkin Pie, Mulled Cider.
Demeter Thanksgiving Reed Diffuser Set
consists of 3 full-size, 4 oz Diffuser Oils in classic Thanksgiving scents will enhance any atmosphere for months to come.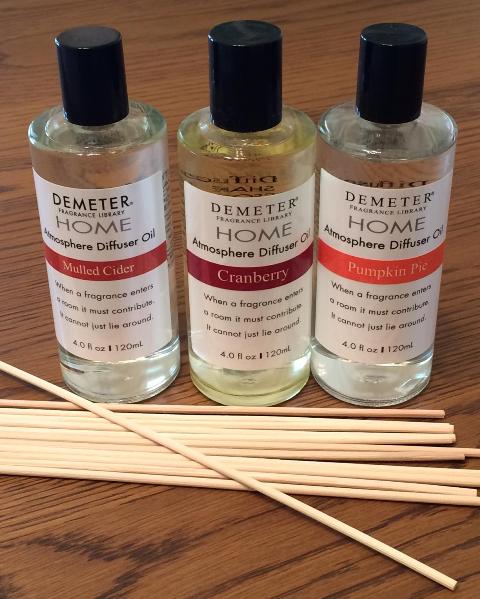 Demeter Diffuser Oils constantly and subtly scent an 8 x 10 space for 2 - 4 months, and use the same great oils as in in our Colognes and other products. Just place the natural reeds included in the set in the glass bottle to draw the essential oils into the air, scenting your space with delicious aromas. All Demeter Oils are also available in 1oz cologne sprays. Demeter Thanksgiving Reed Diffuser Set is available for a limited time on
DemeterFragrance.com
for suggested retail price of $45 ($75 retail value). The limited edition Thanksgiving set will be available throughout November 2017.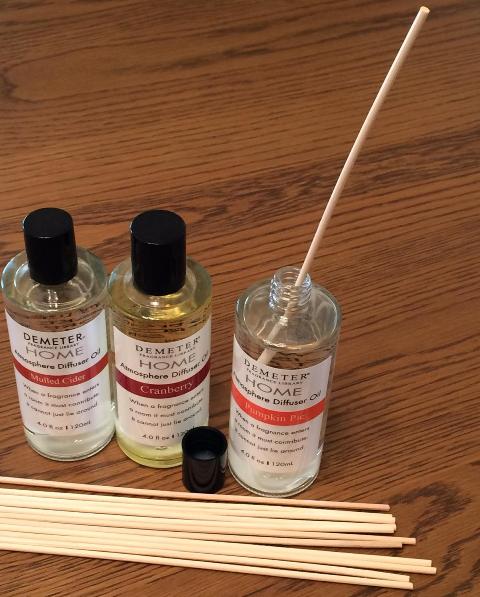 Demeter's Cranberry is the scent of the freshest ripe berries, unsweetened, tart and full of citrus. Just like a storybook New England Fall moment with memories of the cranberry bogs of Massachusetts. A wonderful scent!
What Thanksgiving would be complete without Pumpkin Pie? The memories of the laughter in the air and the smell coming from the kitchen dominates; pumpkin, sugar, cinnamon, a touch of ginger and hint of cloves. This scent is my favorite!
Inviting and warm, Demeter's Mulled Cider is a delightful scent anytime, anywhere. Simply delicious, brimming with the scent of sweet apples, mulled fruits, and spice. This set is perfect for this time of year and is definitely a holiday gift that everyone can appreciate!