Disclosure: I received product at no charge in exchange for my honest review.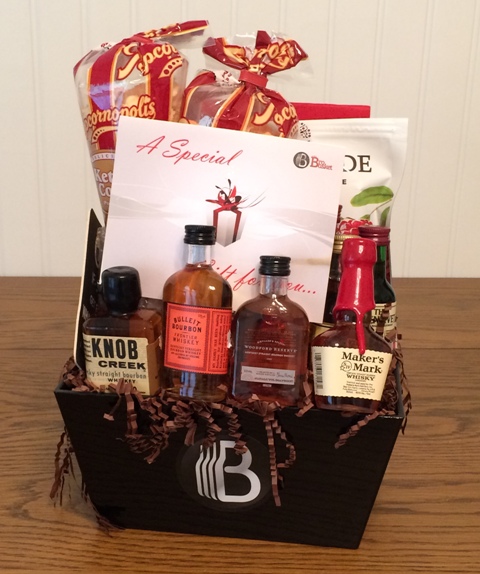 He doesn't want a gift basket of flowers or bath products, but he will go crazy for The Ultimate Whiskey Sampler from
The BroBasket
! We have received lots of gift baskets over the years and I've never seen my husband more excited to get one than when The BroBasket appeared on our doorstep. His comment was, "Now THAT'S a gift!"
The Ultimate Whiskey Sampler
is jam-packed with booze and snacks! Feed his love of whiskey with a bottle of Glenfarclas 12 year, a bottle of Johnnie Walker Red label, a bottle of Johnnie Walker Black label, a bottle of Glenlivet 12 year, a bottle of Glenfiddich 12 year, a bottle of Jameson Irish Whiskey, a bottle of Makers Mark Bourbon, a bottle of Woodford Reserve, a bottle of Bullet Bourbon, and a bottle of Knobb Creek.
These ten 50ml bottles are accompanied by two delectable Popcornopolis Gourmet Flavored Popcorn packages for his salty cravings and a bag of Brookside Chocolate covered treats with fruit flavored centers for his sweet cravings. There is even an 11oz BroBasket whiskey glass and a coaster so he can enjoy it the moment he opens it. And it all comes packaged in a reusable BroBasket tin!
The Ultimate Whiskey Sampler
also includes a gift card so you can include a special message for the lucky guy who gets it. Ours arrived well-packaged and in perfect condition (and by "ours" I mean I hope my husband will share with me). If your guy prefers scotch, vodka, bourbon, tequila, rum, The BroBasket offers a wide variety of drinkable arrangements. They even have craft beer, domestic beer, and imported beer gifts.
The BroBasket is the perfect gift for any guy. Send one as a birthday or holiday gift, father's day gift, bachelor party or wedding gift, new dad gift, college graduation gift, get well gift, going away gift, or to celebrate any special occasion. There are even non-alcoholic (but still cool) gifts for guys. He doesn't want any more socks or ties. Check out
www.thebrobasket.com
for gifts he will truly enjoy!