Hallelujah! I lost two more pounds!
I've now lost
EIGHT POUNDS IN FIVE DAYS!
~~~~~~~~~~~~~~~~~~~~~~~~~~~~~~~~~~~~~~~~~~~~
Am I hungry? Yeah, right before meal time.
Am I hungry in between? Nope.
Are I tired? Tons of energy!
How much sleep? Average 7 hours a night.
Do I miss carbs? Sometimes, but I like losing weight more!
Do I miss sugar? Sometimes, but I like losing weight more?
What about alcohol? I miss alcohol too, but whiskey can wait.
Weigh every day? Yes!
The hardest part? Not nibbling when I feed the preschoolers.
Breakfast - Two tomato slices, add one cooked scrambled egg and two cooked slices of bacon, add one slice of cheese, assemble and microwave 20 seconds to melt cheese. One slice of bacon on the side. It's much too messy to pickup but looks pretty like this. I used a knife and fork to cut and eat it. Scrumptious!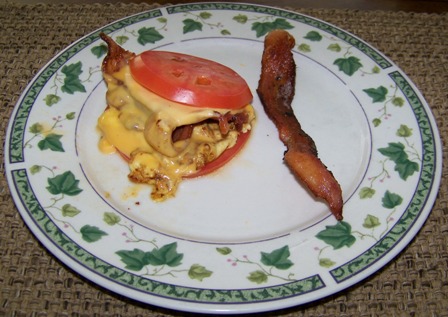 Egg and Bacon Breakfast Sandwich
Tip that's helped me make easier and faster meals: A few days ago, I precooked a pound of ground beef, a pound of ground turkey, and a pound of ground pork. After they cooled, I put them in marked containers in the fridge, so all I have to do is choose one and warm it up.
Lunch - Heat up pre-cooked ground turkey with sauerkraut in a saucepan, pour onto plate and top with spicy brown mustard. A delicious German meal! My husband didn't come home for lunch today like he usually does, so I took the opportunity to have sauerkraut (which he hates). By the way, how do you know when sauerkraut goes bad; doesn't it always smell bad?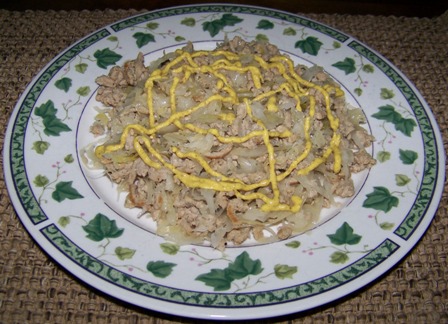 German Dump Casserole
Dinner - Juicy pork steak and a salad of iceberg lettuce, cherry tomatoes, spinach, mushrooms, cucumbers, topped with calorie-free sun-dried tomato dressing. Yummy!!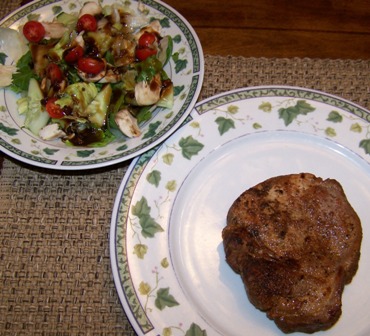 Pork Steak
Drinks - Coffee, water.
Exercise - Planking 60 sec., 20 High Kicks Right Leg, 20 High Kicks Left Leg, 20 Chair Squats, and 20 Counter Pushups. Brisk 30-minute walk with hubby and doggy.