Disclosure: I received product at no charge in exchange for my honest review.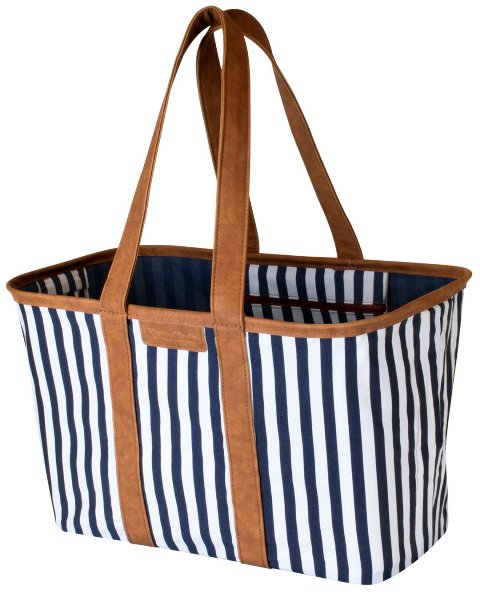 Oh my goodness, I'm so smitten with the new
CleverMade SnapBasket LUXE Collapsible 30L Canvas Tote
! First off, it's so pretty with its navy blue and white striped pattern. Plus, it features vegan leather edging and straps. It collapses down flat and can be wrapped up tight with the built-in WrapStrap. Friends, this tote holds so much stuff!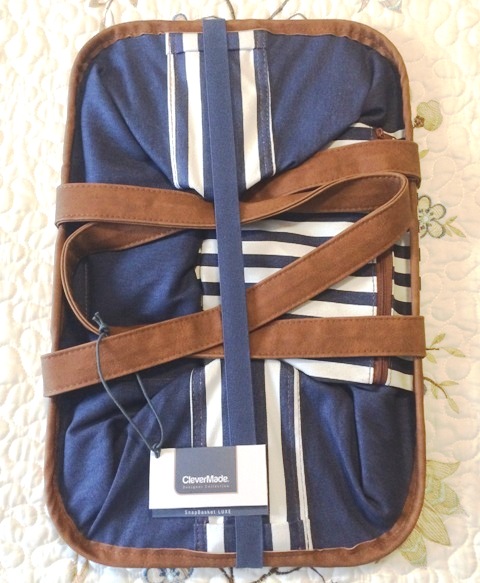 The WrapStrap is a thick elastic band that you can flip over to the bottom so it doesn't even show when you're using the bag. It features four feet so you can set the bag anywhere, even on the floor, and the fabric won't get dirty.
To open the
SnapBasket LUXE
, just lift up on the top edges and on two opposite sides, you'll see (in the picture below) two striped sections that are hiding the "snap" part of the tote. Just press those from the inside towards the outside and this gorgeous tote stands straight up on its own!
Below you can see how it looks after I've snapped the sides into place. You have no idea how happy I am to have a tote bag that won't fall over on me! I use tote bags all the time, for shopping, traveling, and storage in my home and my car. It's the perfect bag for taking packages to the post office, toting gear to class, bringing home groceries, shopping at the craft store, collecting souvenirs on a trip, and so much more!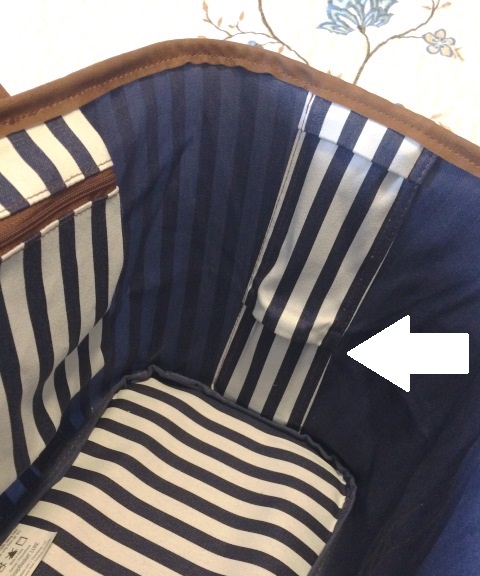 The
SnapBasket LUXE
is a 30 Liter bag, which is 8 gallons! It measures 18.5" L x 11.75" W x 11.5" H fully open and collapses down to just 1.3 inches! When I'm not using (which won't be very often), I can collapse it down and slide it under my dresser, my bed, or stand it up on its side to slide it between my desk and the wall. This bag is so big that both my baby goats fit in it!
You can also see that the bag is fully lined, so you have two layers of fabric to make it much more sturdy and more durable. The vegan leather edging help to make it even more sturdy and the leather straps are going to easily hold up to constant use. I love how CleverMade combined the striped fabric with the solid fabric for extra flair too.
There is even a nice zippered compartment for a phone, keys, lip gloss, glasses, and money. This is the perfect tote for hitting yard sales and flea markets too. This summer, it will be perfect for trips to the lake (or the beach, although we don't have those in Kansas). It holds a full picnic lunch for the park too!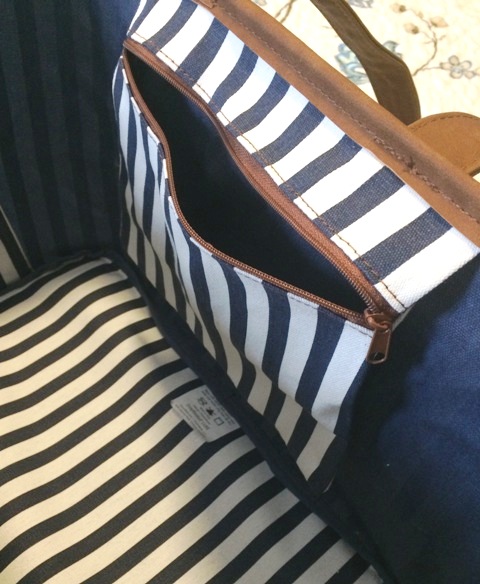 I have never had a tote bag that had these many fabulous features and I am absolutely delighted with the
SnapBasket LUXE
! It is also available in a Heather Gray or a Rose Herringbone style, but my favorite is the Navy Striped. It's only $29.99 and would make a perfect gift for anyone on any occasion! Check out the other
CleverMade
products too, like the SnapBasket Coolers and CleverCrates.
Order this pretty and practical