Disclosure: I received product at no charge in exchange for my honest review.
Just in time for the holidays,
Polaner Fruit and Maple Premium Fruit Spread
makes its debut! It's perfect as a host or hostess gift, a stocking stuffer, on holiday croissants and muffins, and in recipes (see below). Polaner Fruit and Maple is so delicious, it's the best thing on sliced bread. Polaner Fruit and Maple premium fruit spread is sweetened with golden delicate Maple Grove Farms pure maple syrup and is available in four luscious flavors: Strawberry, Raspberry, Peach, and Blueberry.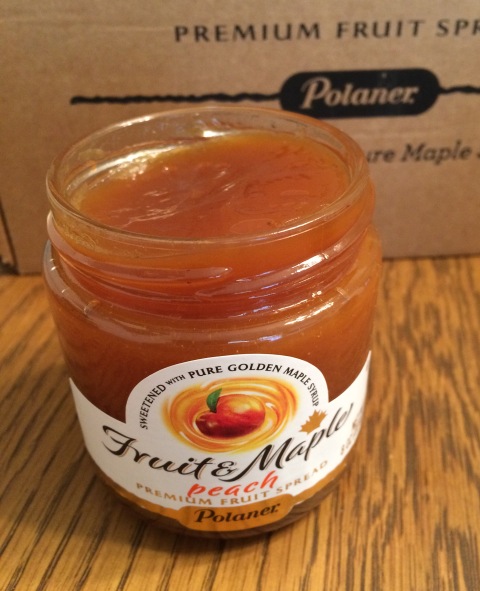 Polaner Fruit and Maple
pairs the fresh taste of fruit with the delicate sweetness of pure maple syrup and each variety contains four ingredients or less (except for peach, which has five ingredients), the first two of which are fruit and pure maple syrup. Polaner Fruit and Maple has no high fructose corn syrup, no artificial flavors, and no artificial colors. This premium line of fruit and maple spreads is also gluten free, non GMO project verified, and kosher. It's absolutely delicious and I love it!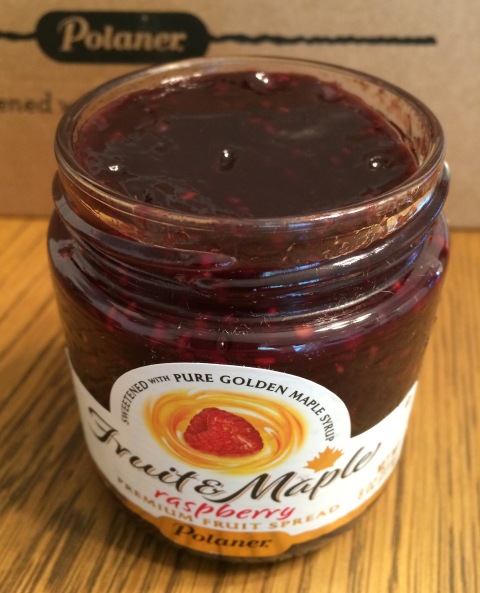 Raspberry Baked Brie
1 8 oz. wheel of brie cheese
2 tbsp
Fruit and Maple Raspberry Spread
1 tbsp toasted walnuts
Fried rosemary sprigs for garnish
Toasted bread for serving
Preheat oven to 350°F. Place the brie on a baking sheet lined with parchment paper. Top the brie with Fruit and Maple Raspberry Spread, spread to edges and bake for 12 minutes. Garnish with rosemary and walnuts. Serve with toasted bread.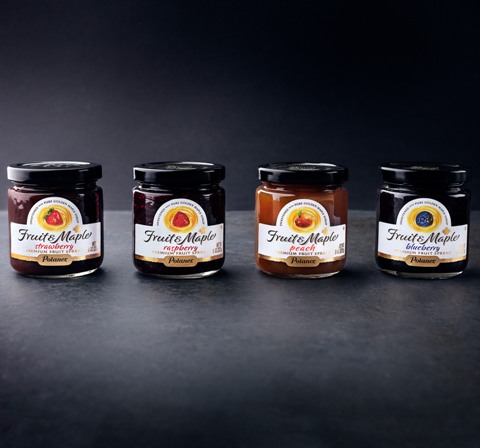 Blueberry and Cheese Tart
1/2 cup
Fruit and Maple Blueberry Spread
, warmed
1 sheet puff pastry, thawed
1/2 cup ricotta cheese
1/4 cup crumbled goat cheese
1 large egg yolk
1 tbsp water
mint and basil leaves, for garnish
olive oil for drizzling
Preheat oven to 400°F. Lightly flour your work surface and unfold your thawed puff pastry. Roll out the dough into a 12"x10" rectangle and transfer to a baking sheet. Brush the edges with water and fold the edges over about a 1". Pinch the dough to form a crust. In a small bowl whisk egg yolk and water. Brush this mixture over the crust. Using a fork, poke holes in the bottom of the dough. Spread the ricotta cheese evenly over the dough, then the Blueberry Fruit and Maple and top with sprinkled goat cheese. Bake for 20 minutes or until golden brown. Transfer to a wire rack and allow to cool before serving. Garnish with mint leaves and drizzle with olive oil and cracked pepper just before serving.
For more recipes, and to locate Polaner Fruit and Maple Premium Fruit Spread near you, visit www.polanerspreads.com.