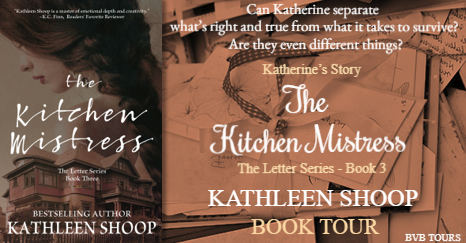 NEW RELEASE....
For every woman who's had to choose between the secrets that protect her and the people she loves the most…
1892—Des Moines
Katherine Arthur and her family are back and it's time to collect the money Mrs. Mellet left them in her will. The tidy sum will allow the family peace of mind and a future that's stable and fulfilling. But when things don't go exactly as planned, Katherine steps up to do more than her share. Hired as a kitchen mistress, her intuition (with the help of a mysterious recipe book), cooking prowess, and work ethic make her the perfect partner for the enigmatic, wealthy woman next door. Then Aleksey Zurchenko arrives.
Violet Pendergrass is a well-heeled, progressive woman with half a fortune in one hand and a plan for enduring prosperity in the other. Resourceful, shrewd, and tough, Violet doesn't realize her one and only weakness leaves her vulnerable as she attempts to solidify her independence. She sees unparalleled value in Katherine's gifts and does her best to keep the girl close, to keep her true work secret from her mother and the world.
Katherine's loyalties to her mother and Violet grow strained and soon her commitment to both frays even further as her feelings for Aleksey grow. Katherine must decide if pursuing her work with the formidable Violet and protecting her family are more important than following love. Can she do it all? Love, hope, joy, secrets buried in walls and hearts; all are threatened by those who claim to care about the Arthurs. Can Katherine separate what's right and true from what it takes to survive? Are they even different things?
The Last Letter Series of novels by Kathleen Shoop
is set in the Midwest of America in the late 19th and early 20th century. Shoop takes readers on an emotional journey through love, loss and redemption. Inspired by family letters, the novels pull from historical events and places and feature the life and times of the fictional Arthur family as they make their way in the world.
Available to buy from the following sites...

"Kathleen Shoop is a master of emotional depth and creativity."  - K.C.Finn, Readers' Favorite Reviewer


"The Kitchen Mistress is a beautiful story beautifully told. Kathleen Shoop is a master storyteller with a great gift for the first-person narrative, a voice she harnesses so well to create a dramatic effect on readers... One of the things I enjoyed about Shoop's writing is her mastery of the conflict. It is introduced very early in the narrative and it escalates pretty fast. I read the story nonstop, waiting eagerly for the satisfying denouement." -- Romuald Dzemo for Readers' Favorite 
"The Kitchen Mistress is a beguiling story, with characters that feel so real the reader could almost believe they walk the same road with them. The protagonist has a complex world to navigate and it is interesting to see how she deals with her secrets, faces the challenges of her relationships and her work, and how she connects to herself. The Kitchen Mistress is delicately written, with a beautifully imagined plot, great prose, and memorable characters. I was seduced by the expert writing and could not stop reading until the last page." -- Arya Fomonyuy for Readers' Favorite
Letter Series Book 1 - The Last Letter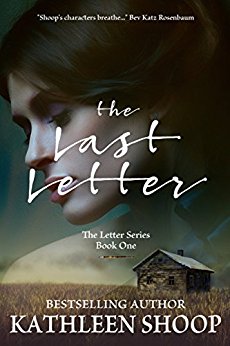 Katherine wouldn't have believed it if she hadn't found the letter...  
In the summer of 1905 Katherine Arthur's mother arrives on her doorstep, dying, forcing her to relive a past she wanted to forget. When Katherine was young, the Arthur family had been affluent city dwellers until shame sent them running for the prairie, into the unknown. Taking her family, including young Katherine, to live off the land was the last thing Jeanie Arthur had wanted, but she would do her best to make a go of it. For Jeanie's husband Frank it had been a world of opportunity. Dreaming, lazy Frank. But, it was a society of uncertainty--a domain of natural disasters, temptation, hatred, even death.  
Ten-year-old Katherine had loved her mother fiercely, put her trust in her completely, but when there was no other choice, and Jeanie resorted to extreme measures on the prairie to save her family, she tore Katherine's world apart. Now, seventeen years later, and far from the homestead, Katherine has found the truth - she has discovered the last letter. After years of anger, can Katherine find it in her heart to understand why her mother made the decisions that changed them all? Can she forgive and finally begin to heal before it's too late?  
**Independent Publisher Awards** 
2011 Gold Medal, Best Regional Fiction-Midwest 
**National Indie Excellence Book Awards** 
2011 Finalist Award-Historical Fiction 2011 Finalist Award-Regional Fiction 
**USA Best Books 2011 Awards** 
Winner, Fiction--Western Finalist, Fiction--Historical Finalist, Best New Fiction 
**International Book Awards** 
2011 Finalist Award-Historical Fiction 2011 Finalist Award-Best New Fiction
Available to buy from.......