Disclosure: I received product at no charge in exchange for my honest review.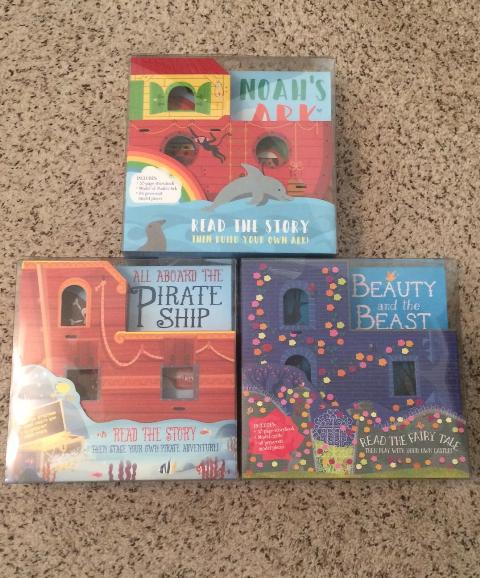 Children can bring the story to life with these amazing Books and Playsets from Silver Dolphin Books. Each set comes with a large hardbound book and a three-dimensional playset that folds out into the story scene, complete with stand-up characters and props. Choose from Beauty and the Beast, Noah's Art, and All Aboard the Pirate Ship for just $19.99 each.
The storybooks are beautifully written by Timothy Knapman and illustrated by three amazing artists.
Beauty and the Beast
comes with a castle and a big set of press-out model pieces. The prop pieces match the characters and scene in the book, so it's easy to act it out as you read along.
The playset is made of high-quality, laminated, chunky cardboard for hours of play. When you're done playing, all the pieces and the book fit back together and store in the base box. Designed for ages 5 years and above, these books and playsets are a great keep-busy idea for a rainy day. They are a fabulous gift idea for birthdays, holidays, and other special occasions.
It took about 15 minutes to completely assemble the playset the first time, including pressing out the pieces, putting together the pieces, and setting up the scene. The second time it only took about 5 minutes to assemble. I think these books and playsets are wonderfully creative and interactive, and best of all they require no batteries or screens, just pure imagination!
See all three books and playsets at