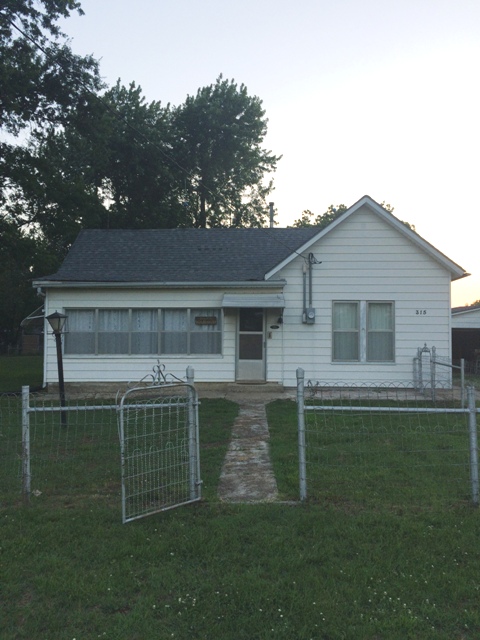 We have now officially been living in our little 1888 Kansas farmhouse for a year and we finally completed the Master Bedroom! I am so happy with it. It turned out even better than I had dreamed. I can hardly believe this is the bedroom I get to sleep in every night. There are a few links throughout the post to the products we purchased and some of them are affiliate links, which means if you click through and purchase, I earn a few cents. 
Here's what the master bedroom looked like when we bought this house: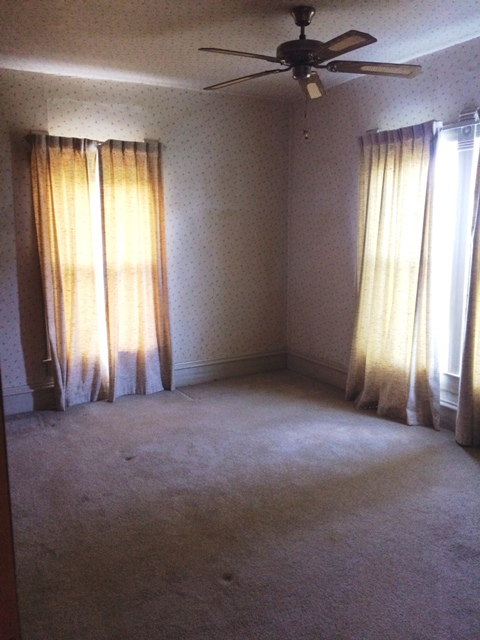 The room had likely not been touched in many, many decades. There was very old, yellowed, stained wallpaper on the walls and the ceiling, as well as in the closet. The carpet smelled horrible, was stained and dirty, and the curtains were so old that the fabric would literally fall apart if you touched them. Everything smelled as old and worn out as it looks.
Before even sleeping in there, we pulled up all the disgusting carpeting and padding. We also had to crawl around on the wood floor to pull up old staples and nails. The wood floors are in impeccable condition even though they are 130 years old. Since Kansas gets very cold, my husband decided on carpeting rather than refinishing the wood floors. We contracted to get new carpeting laid down so we could move in right away. Here's the beautiful, clean new carpeting; the color is called peanut butter pie: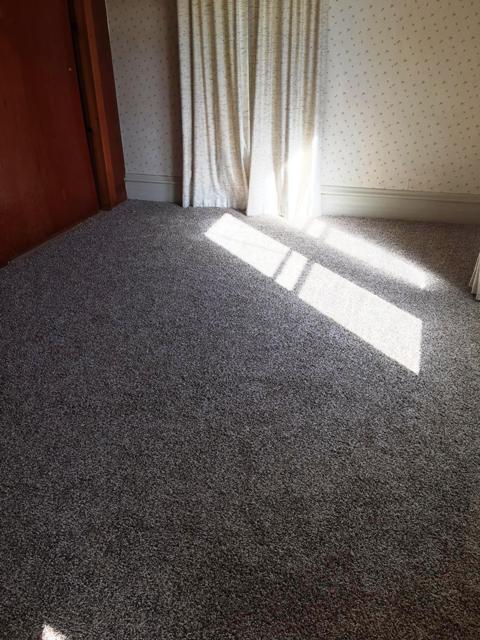 We lived with the master bedroom like this for many months so that we could concentrate on the kitchen, the bathroom, and a few other projects that needed done sooner. Since our guest bedroom was empty, we moved the master bedroom furniture into there during our master bedroom renovation. We also had boxes of stuff piled up around the edges of our living room during that time, so it was a constant reminder to get it done as soon as possible. First, I had to peel off all of the antique wallpaper: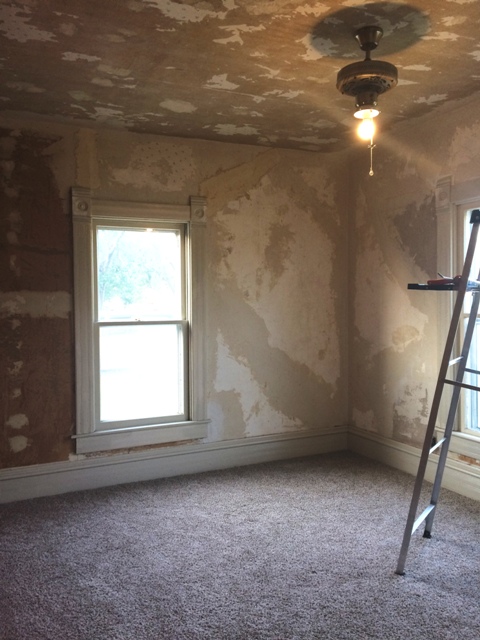 I spent a week wetting wallpaper, scraping wallpaper, and cleaning up what I peeled off. My hands, fingertips, and fingernails were so sore from scraping and picking at all the little pieces. I also had to strip off the ceiling, which was an awful pain in the neck. Finally, I could prime the walls and the ceiling with
Kilz 2 Primer
: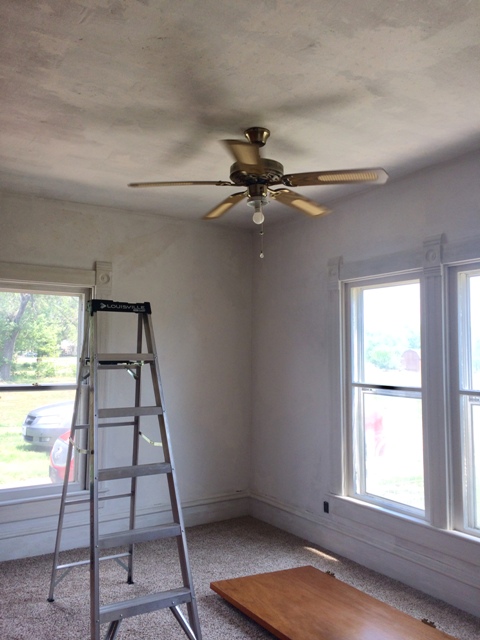 I also primed all the antique window casings, door casings, and baseboards. Originally, I was just going to paint the walls white, but I decided I wanted shiplap (or at least the look of it) in my master bedroom. It's really expensive, so we decided to make faux shiplap from sheets of 1/4" plywood, also commonly used as an underlayment for ceramic tiles. So my dear husband brought home the plywood in 4'x8' sheets, then cut each one into 6" wide x 8' planks.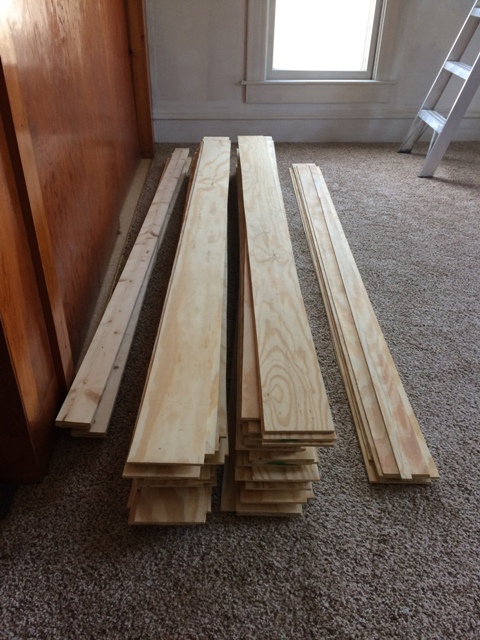 To eliminate the need to paint in between planks once they were on the wall, I decided we should stack them all on their side so I could paint the side, let them dry and flip them over and do the same thing to the other side of the planks. It was tricky to get them all to stand without tipping over, but we shored them up on the sides with the 1"x4" planks that would eventually become our ceiling trim.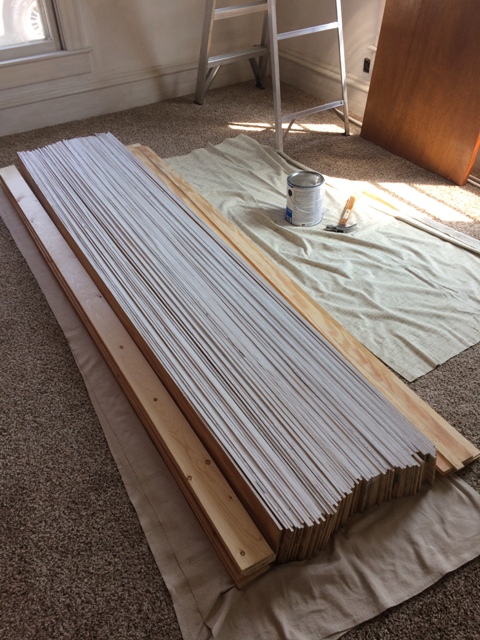 After they were dry, it was my husband's turn to work. He began putting up the "shiplap" planks with both
Loctite Heavy Duty Power Grab Glue
and a nail gun, measuring and cutting each plank to fit the spaces on the walls. We decided to start at the bottom of each wall area since we planned on adding the 1"x4" ceiling trim. Plus, since a 130 year old house settles over time, we had to make a few adjustments to fit the existing shape of the walls.
To ensure even spacing between each shiplap plank, we used a square tool that has a lip so we could just set it on the lower plank then stack the next one up on top of it. It worked perfectly throughout the entire room. To save time and work, we did not take down any of the antique window or door casings, rather we measured the shiplap to butt up against them.
Here are a few pictures of the progress: