Disclosure: I received product at no charge in exchange for my honest review.
I do love a challenge! Especially the QVC Design Challenges! This month I received the
Candle Impressions Fillable Glass Log with 5 Flameless Votives
. The glass log is just over 13 inches long and the candle votives are almost 2 inches tall.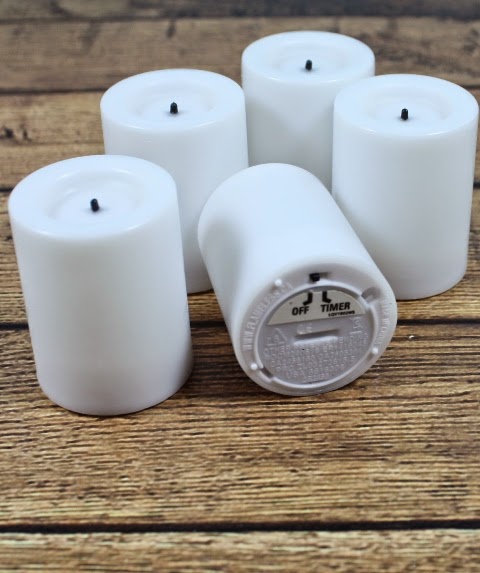 The candle votives are all white with a little black faux wick on top. The votives are flameless, which means no worries about fires. Each one comes with a little battery inside and a flip of the switch on the bottom of the votives turns on an inner light, giving the candles a soft, flickering glow. They even have a timer function that shuts off after 5 hours.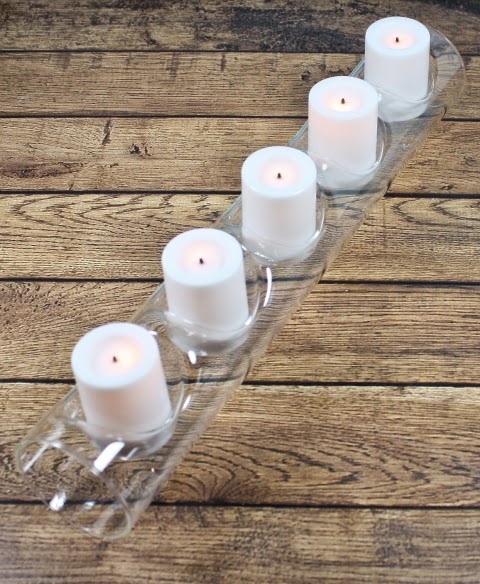 The glass log has little feet on the bottom and indentations for the candle votives. On each end of the glass log is an opening, so it can be filled with little decor items. Adding a special touch to the candle log provides instant themed home decor.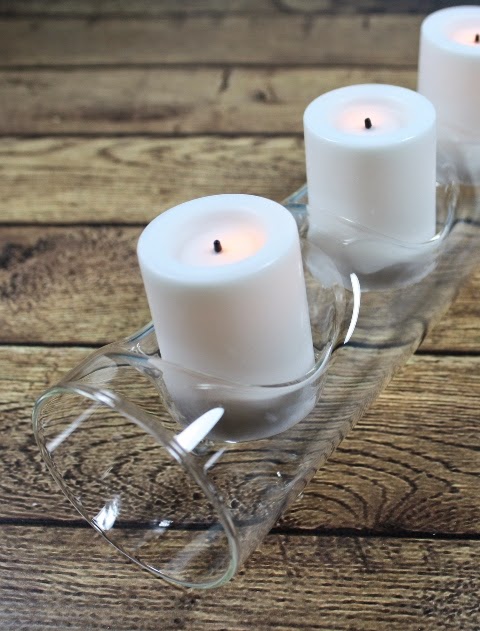 Off I went, digging through stuff in my house to find ways to personalize the candle log. With Thanksgiving coming up, I've got all kinds of harvest themed items and these little faux floral arrangements poke right into the ends of both sides of the glass log. An instant centerpiece! Another great Thanksgiving idea is to fill it with cranberries.
A quick look through my sewing basket turned up some fancy red thread. I turned the glass log on its side and dropped one end through to the other end, then bunched it up a bit on both ends. With the red thread, the glass log transforms instantly into Christmas decor. Some other great ideas for winter include fake snow, snowflake glitter, and tiny red and green ornaments.
Hosting a craft night at your house? Make use of your mom's button tin and fill the glass log with all those colorful buttons! Got a bunch of kids coming over for a birthday party? Fill it with little legos or even barbie shoes.
Maybe you're more the type for Mexican dinner parties? I filled my Glass Candle Log with a handful of dried red peppers. There are so many ways to personalize this simple home decor piece that I can use it all year long.
One of my favorite ideas is to fill it with candies. Although the filling tends to disappear when I do that. The Glass Candle Log is the perfect size to set on the windowsill in my front room, so it will even add beauty to my outdoor Christmas decor.
Get your Glass Candle Log at www.qvc.com. You can find item #H282737
HERE
. QVC's Jill Bauer hosts the network's popular show, You're Home with Jill® and provides fans with simple solutions for their busy lives through innovative products, a library of stress-free DIY projects, and crowd-pleasing recipes. Connect with Jill on Facebook, Twitter, Pinterest, and Instagram @jillbauerqvc and check out her page
HERE
.