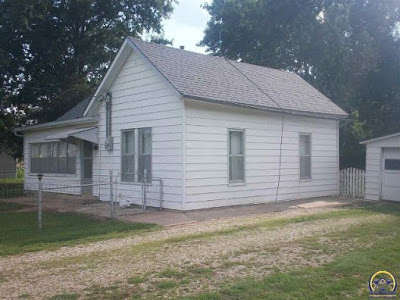 (realtor pic)
Welcome to our home! We purchased this charming house in October 2017 in a small town in Kansas. It was built in 1888 and was originally a two room house, with other rooms added on in 1925. There is so much I love about this house. We are renovating and I am so excited to say that we just completed the bathroom!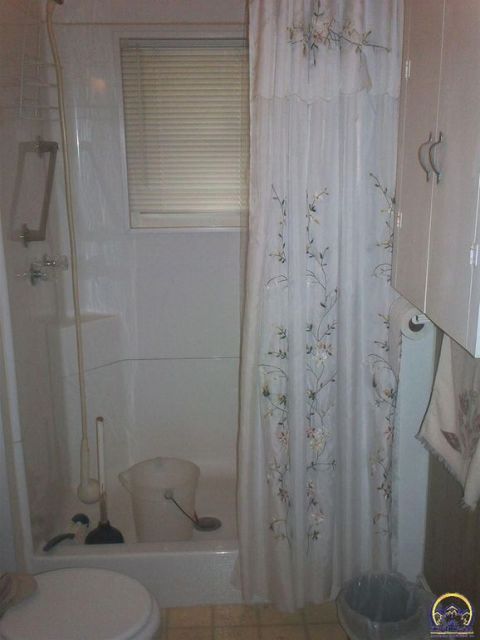 (realtor pic)
The one bathroom in our home is a small space. I am guessing there were some updates in the 70s, because of the greenish-brown paneling that was added to the lower half of the walls. The shower was in great condition, so it needed only a good cleaning. There is a window in the shower, so I think at some point there must have been a claw-foot tub, but the shower stays, and we ended up hanging a tiny shower curtain over the window with a tension rod.
MDF beadboard
, which was lighter and easier to work with, as well as more affordable. Once painted, it's as beautiful as wood beadboard.
pedestal sink
for our bathroom.
shelves
that hold
storage baskets
and our
bathroom towels
, which are all shades of gray.
bath rugs
and I'm delighted that the stripes go the opposite way of the grain of the flooring. Rather than hang a toilet paper holder, I bought a freestanding
toilet paper holder
that also stores extra rolls. We also hung a new shower curtain rod, curtain rod hooks, and a white textured shower curtain.
bathroom towels
we chose and think it's a beautiful contrast to the lines of the beadboard. Once we added the top trim to the beadboard, caulked it all properly, and painted everything, the beadboard looks perfect.
bathroom wall mirror
over the sink that features a little shelf at the bottom. We cut the beadboard trim to fit around the mirror so that it hangs exactly where we need it. I kind of breezed over how much work was put into the upper walls, but that's the part of the project that took the longest.
lighting fixture
on the wall directly above the mirror, where the old medicine cabinet was hung, since the electrical lines were already there.
flush lighting fixture
(brushed silver base) so it would give off a softer light than the vanity light.
Note: I have included links to many of the items we added to our bathroom, in case you want to add them to your home. Only the amazon links are affiliate links, which means if you purchase those items through the link in this post, I'll be able to add a few pennies to my change jar.