Disclosure: I received product at no charge in exchange for my honest review.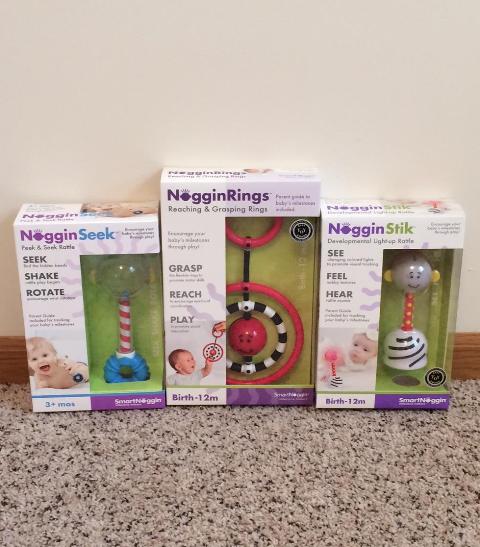 As a new mom, you're going to want all the top developmental toys for your precious bundle of joy. I absolutely love
SmartNoggin
learning tools for infants. The first three years are simply incredible in growth and development and SmartNoggin products help to develop looking, listening, reaching, and touching in infants.
NogginSeek
Peek and Seek Rattle
helps encourage your baby's early milestones through play. It features a clear sphere that encourages shaking, beads that spin with the movement of baby's wrist, creating baby's first lesson in physics, and a textured handle for feeling and sized for easy grasping.
It also features a striped tube that slides in and out of handle for visual interest and to encourage wrist rotation, and beads that hide in the striped tube when the NogginSeek Rattle is held upright to encourage awareness of object permanence. It even comes with a Parent Guide to infant milestones.
NogginRings
Reaching and Grasping Rings
was originally introduced in the 1980's. I even remember my own daughter (born in 1990) having this toy and it was one of her favorites! NogginRings features flexible rings for batting, reaching, grasping and transferring from one hand to the other.
The contrasting colors of NogginRings helps children to see and visually track. It also features a rattle sound to encourage turning in the direction of sound, and it encourages social play and interaction. The large ring at the top makes it easy to hook onto a stroller for a great travel toy.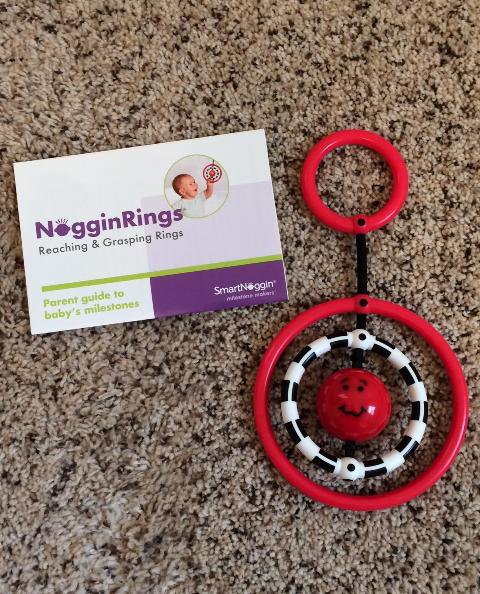 The rings are great for teething on too! The happy face in the center is very visually appealing to baby and encourages baby to smile. The NogginRings also comes with a Parent Guide to Baby's Milestones.
The
NogginStik Developmental Light-up Rattle
is packed with learning! The base of the NogginStik makes a soft rattle sound to please the ears, plus there is a little mirror on the bottom for babies to see their reflection.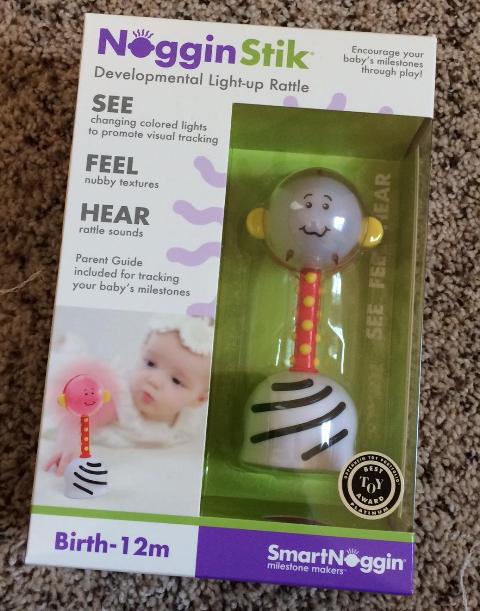 Its head lights up red, blue, and green to stimulate a baby's eyes and to encourage visual tracking. NogginStik has an easy to hold handle for mastering grasping and fun nubby textures to delight the sense of touch. It will stand up on any flat surface too!
NogginStik comes with a Parent Guide to milestones for baby. All three of these wonderful SmartNoggin developmental toys have won awards - Creative Child Magazine Top Toy of the Year Award, National Parenting Center Seal of Approval, Dr. Toy's Best Classic, Oppenheim Toy Portfolio Best Toy Award, and National Parenting Product Award, just to name a few!
Shop for SmartNoggin developmental toys at