Disclosure: I received product at no charge in exchange for my honest review.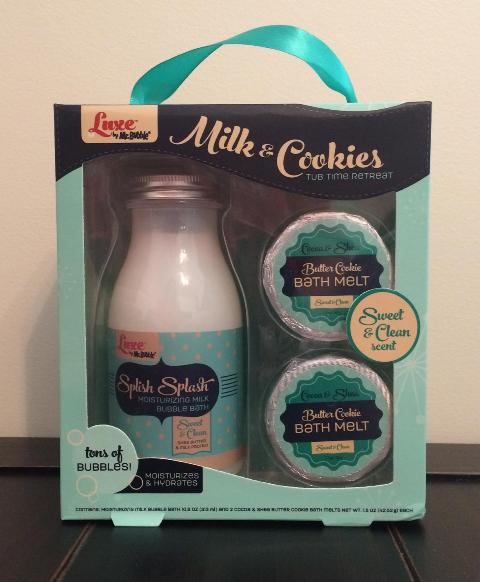 Mr. Bubble has released an exclusive line of retro-inspired pampering products for women. It's Mr. Bubble's first foray outside of the kid market! Milk and Cookies features an old fashioned milk bottle with two "cookie" bath melts. What a perfect gift set for those who love vintage bathroom designs and farmhouse bathroom designs. I am in love with this set! Take a dunk in a rich and creamy bath surrounded by bubbles and indulge yourself (or a loved one) in a nourishing milk bubble bath made with Shea and Vitamin E, then add a double dose of hydration with two butter cookie bath melts. Enriched with nourishing Cocoa and Shea Butter, the decadent bath treats slowly melt around you, leaving your mind relaxed and your skin irresistibly soft. Oh, you're one smart cookie.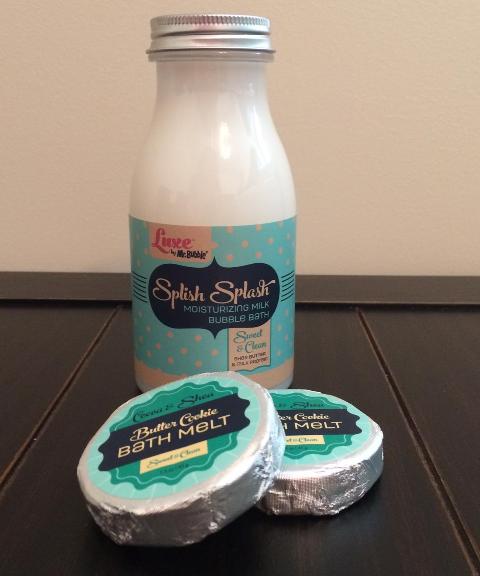 This "tasty" trio is available in either the sweet scent of Original Bubble or the luscious, sugar cream scent of Sweet and Clean. It makes a great gift or stocking stuffer for your mom, sister, or best gal pals or a refreshing alternative for a hostess or teacher gift. Priced at only $9.99, you can pamper ALL the special ladies in your life! Milk and Cookies is available exclusively at
Target
retail stores and online starting November 1. "The Mr. Bubble brand is all about fun. For this holiday we took our popular Luxe line and developed innovative, luxurious products that are kitschy, affordable and ready-to-gift," said Michelle Hanson, Director of Marketing, The Village Company, parent company of the Luxe by Mr. Bubble brand. "The best thing is, you can indulge without the added calories!"
If bubbles get you thinking about rest and relaxation, check out the exclusive Luxe by Mr. Bubble Me Time Gift Set Duo. This limited edition set includes indulgent Bubbletini Bath Bombs in a functioning martini shaker and luxurious powdered bubble bath in a reusable retro tin. It's like four gifts in one! Timeouts aren't just for kids anymore, so sit back, relax and get pampered with Mr. Bubble, the original brand of bath luxury. Both bubbles and bombs come packaged in a giftable box in your choice of Original Bubble or Sweet and Clean. No wrapping required! Priced right at $12.00 and available exclusively at
Target retail stores and online
starting December 1.
Bubbletini Bath Bombs Bath Bombs are more popular than ever, but packaged in a reusable drink shaker? That's a gift that keeps on giving! Fun, fragrant and moisturizing, these little bombs pack a heavenly punch for the most indulgent bath time retreat. And they pair perfectly with your favorite cocktail, shaken of course, not stirred. Each Bubbletini contains 14 bath bombs, enough for 4-6 luxurious baths, and are available in Original Bubble and Sweet and Clean. Priced at only $8.99, you can afford to get them both! Bubbletini Bath Bombs are available at all
Target locations and online
starting December 1. On the Rocks Sea Salt Body Soak and Give Me Some Sugar Triple Moisture Sugar Scrub are great for back-to-school "treats" for moms. Both are available at
Ulta
. I am definitely enjoying all these bath treats!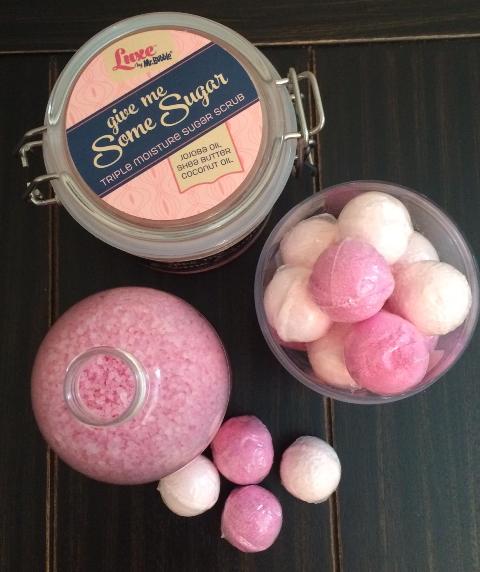 Luxe by Mr. Bubble products by visiting