Disclosure: I received product at no charge in exchange for my honest review.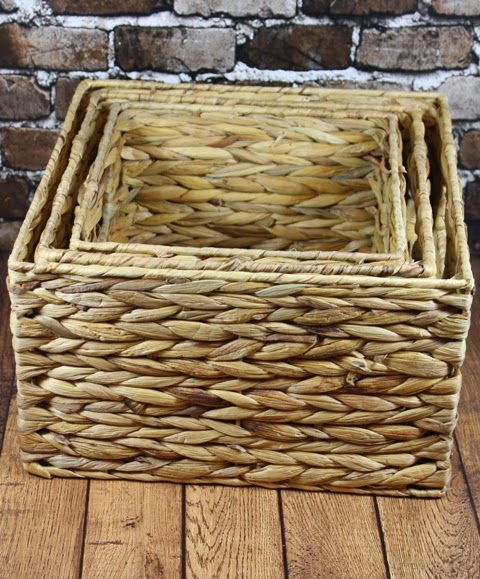 Spring cleaning is, simply put, a big pain in the neck. The biggest challenge for me is keeping things organized in my little home. The cabinets in my kitchen and my bathrooms become a sort of dumping ground for soaps, cleaners, shampoos, and lotions. It gets to the point where I don't know what I have, so when I'm at the store I buy another one and then end up with more than I need. The
Honey-Can-Do 3-piece Nesting Banana Leaf Baskets
from QVC are the perfect solution to organizational nightmares like mine!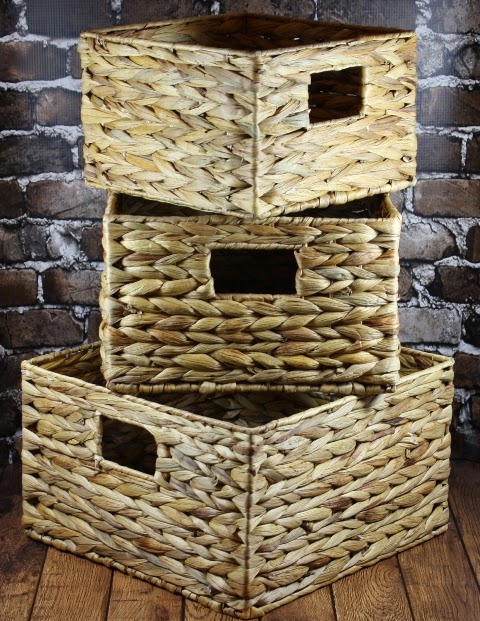 These beautiful baskets are woven from banana leaves and each one has a very sturdy frame. Since they are
nesting baskets
, they come in three sizes - Small 9" x 9" x 6"; Medium 10-1/2" x 10-1/2" x 6-1/2"; and Large 12" x 12" x 7". This set of three is one easy purchase. The baskets can be used for nearly anything, including craft supplies, food items, toiletries, clothing accessories, and much more. They are so pretty that I almost hate to hide them in a cabinet, but the area under my kitchen sink is in dire need of an organizational solution.
These
Banana Leaf Baskets
worked like a charm and I love the natural look. I grouped similar items together and got everything put away neatly in just minutes -- spring cleaning made easy! I was so inspired that I actually ended up organizing other parts of my kitchen too. The extra items were bagged up and taken to my local food pantry, and now I know exactly what I have in my cabinets. Having an organized kitchen makes me so happy!
Need some tips to
organize your kitchen
? Here are ways you can whip your kitchen into shape:
Empty everything out of your cabinet (one cabinet at a time, so you're not overwhelmed).
Wash the bottom of the cabinet while everything is out.
Organize your items by placing similar items into baskets (like these Banana Leaf Baskets).
Donate what you don't need or won't use.
Recycle any empty plastic bottles, or reuse them by picking up concentrated cleaners next time you shop.
Need more organization tips? You simply must check out
Jill Bauer
, QVC's Home-Savvy Hostess. She hosts the network's popular show, "
You're Home with Jill®
" and provides fans with simple solutions for their busy lives through innovative products, a library of stress-free DIY projects, and crowd-pleasing recipes. Fans can connect with Jill on Facebook, Twitter, Pinterest, and Instagram @jillbauerqvc.
Share this post with the buttons below!