For the last three weeks, I've listened to my almost-five-year-old daycare girl tell me about her
bad dreams
. Since I'm a daycare provider, I've been witness to many bad dreams during naptime and know how distressing they can be to a young child. The Nightmare Nibbler has come to the rescue!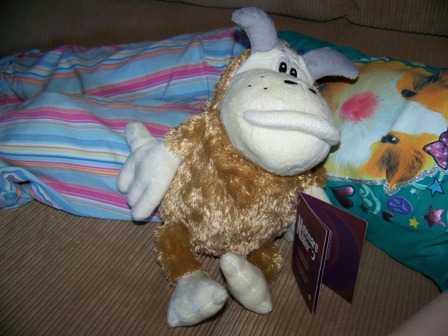 The Nightmare Nibbler is an adorable little friend who can snack on all those
children's nightmares
and comfort your child throughout the night! This friendly guy will become fast friends with your child. The day he arrived here at my daycare, she asked me, "Miss Lisa, can I take him for a night?" which turned into "Can I keep him two nights?" and then "How about four nights?" On Friday, shortly after her dad picked her up, they returned, because she was looking for him. Unfortunately, I still hadn't written my review, so I sent home another stuffed animal with her, with promises she could take him home Monday. She was visibly disappointed.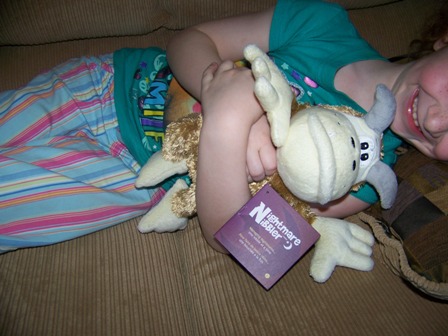 Nightmare Nibbler won the Kidlutions Preferred Product Award and I'm so excited to introduce him to you. If your child has
nightmares
, this little guy is sure to provide some comfort. His name? Norbert! This is a perfect Easter Basket addition! Here's his poem:
I'm a Nightmare Nibbler who's on duty through the night, protecting you from scary things that might give you a fright!
It doesn't matter what it is, I'm not afraid at all whether 1 inch, 1 foot or a bazillion feet tall!
You see, as a Nightmare Nibbler all I do is eat, bad dreams, scary dreams, I think they're all a treat!
Those dreams do not stand a chance, when I am here with you since I chew them up and swallow them, before they can say boo!
So hug me tight, close your eyes and wipe away your fears, I'm here all night to protect you, if anything appears.
Good Night and Pleasant Dreams…
Want to win a Nightmare Nibbler for your child?
To enter to win, just fill out the Rafflecopter form below. You must be at least 18 years old, have a US address, and follow Planet Weidknecht in at least one way. Only the first entry is mandatory; all others are bonus entries to increase your chances to win. This giveaway ends on 4/5/2012 at midnight ET. Good luck, my friends!
Disclosure: I received this product at no charge in exchange for my honest review.
You can buy him at 
http://store.nightmarenibbler.com/
. Be sure to follow at
Facebook
and
Twitter
! There is even a book now!