#Disclosure: I received product at no charge in exchange for my honest review.
With all the electronic gadgets on the market today, it can be difficult to decide which ones will work best in your busy life. For the past week, I've spent the majority of my "screen time" on the
ASUS MeMO Pad 7
and easily came up with 10 reasons you're going to love this tablet!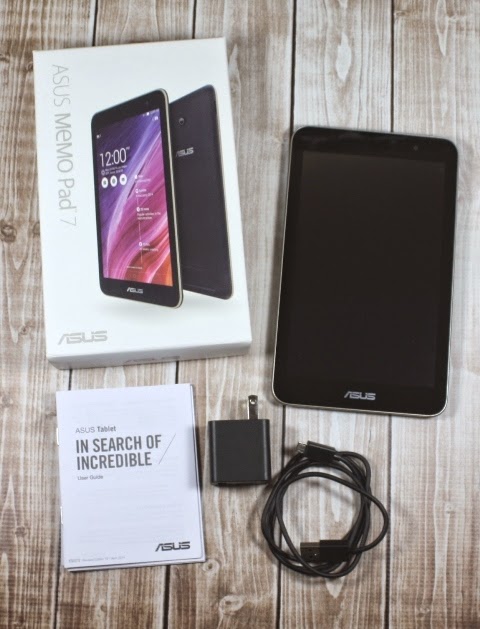 1. PRICE - The ASUS
MeMO Pad 7
is under $200. Yes, really. Talk about affordable! That puts it in the range of a great gift idea for Valentine's Day, Mother's Day, Father's Day, and graduations.
2. SIZE - From edge to edge, the ASUS MeMO Pad 7 measures about 7.5" x 4.5" and features a 7" display screen. It is plenty big enough for a great user experience. It's lightweight and comfortable to hold. It easily fits into my handbag too, making it an excellent choice for travelers, parents, and students.
3. BATTERY LIFE - With up to 11 hours of battery life, the MeMO Pad 7 has outlasted my online time every day this week. It also comes with its own power plug and charger cord.
4. PERFORMANCE - The ASUS MeMO Pad 7 features an Adroid 4.4 operating system, and the ASUS ZenUI user interface with over 1000 upgrades and enhancements, plus an Intel quad-core processor. In other words, this touchscreen tablet works fabulously!
5. DESIGN - It's available in several different colors, including Black, Red, Blue, and White. One thing I really liked about the design is the slightly rubbery texture of the back of the tablet, making it easy to hold, and (hopefully) I'll be less likely to let it slip out of my hand.
6. CAMERA - The MeMO Pad 7 features a 2MP front cam and a 10MP back cam with autofocus, plus 720p HD and 1080p FHD video recording. It produces high quality photos and offers a very clear image for video-chatting.
7. ACCESS - This sleek
tablet
also allows for wireless connection and Bluetooth connection. Browsing the web on the MeMO Pad 7 is fun and I can download all my usual social media apps, as well as my favorite games and music.
8. SERVICE - ASUS provides
customer support
both online and offline. Their customer service website offers easy access to drivers and manual downloads, as well as frequently asked questions. You can also call or email them for help.
9. OTHER GOODIES - The MeMO Pad 7 features two high quality speakers, a micro USB, a headset jack, a digital microphone, and a micro SD card reader. Even the screen has an anti-fingerprint coating!
10. COVERS - The beautiful Carry Me Cover looks much like a ladies' stylish wristlet purse and the smart Folio Cover folds to provide the ideal tablet stand. Both are made to fit the ASUS MeMO Pad 7 perfectly.
Overall, I think the ASUS MeMO Pad 7 is an excellent tablet choice. Find out more about ASUS tablets, computers, laptops, smartphones, and other exciting technology products on their website at
www.asus.com
. Follow them on
Facebook
and
Twitter
too!