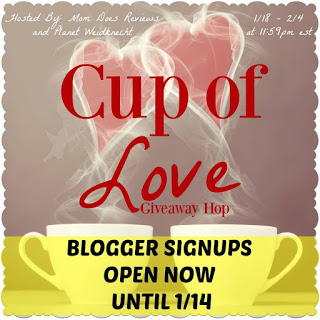 Welcome to the Cup of Love Valentine's Giveaway Hop Sign Ups!
Please use #CupofLove in your social shares!
This Blog Hop is for gift cards or Family-Friendly Gifts. You can giveaway anything you know your readers will like as long as it is worth $15 or more. Since this is a Valentine's Day Hop, we would love to see more prizes that you would want to get or give for Valentine's Day! Of course, everyone loves gift cards and CASH!
Because this is a blog hop, each blog will be responsible for securing their own prize on their own blog. Each prize must be a Minimum of $15. The Prize can be sponsored OR you can self sponsor. Each blog can have more than 1 winner, but each winner must win at least $15 in prizes. For example, you can giveaway a $15 Walmart GC or a prize valued at $15 or more.
Joining this Blog Hop is FREE! You do NOT have to post the announcement- but we do appreciate shares. If you Tweet, pin, or share on FB, that would be amazing!
Dates: The giveaway starts 1/18/16 at 12:01 am est and ends 2/4/16 at 11:59p est
Who: YOU! Anyone with a blog can sign up.
Sign ups close 1/14
Just enter your blog name and email on the linky below.
HTML will be emailed 1/15!
---