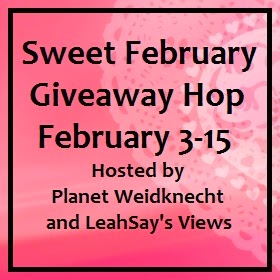 Sweet February Giveaway Hop
from February 3-February 15, 2014
By adding your blog link below, you agree to:
Post your own dedicated giveaway for this event, from February 3, 2014 at 12:01a.m. until February 15, 2014 at 11:59p.m. Giveaway may be company-sponsored or self-sponsored. Giveaway prize must be worth at least $25.00. Blogs without giveaways posted by 10:00a.m. on February 3 will be removed from the linky list. Signups close on February 1.
You do not need to post in advance of the giveaway hop, but if you'd like to add the button to your sidebar please link it to this post so that others may join in too.
Please also join the Weidknecht Events Facebook Group at:
http://www.facebook.com/groups/WeidknechtEvents/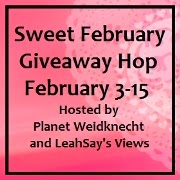 Your giveaway post (on February 3) must include:
Gift Card Giveaway Hop button
Link to the hosts
Planet Weidknecht
(http://www.weidknecht.com) and
LeahSay's Views
(http://leahsaysviews.com/)
Provided linky list of all participating bloggers
Your giveaway and contest form
HTML will be provided a few days before the hop begins, both by email and post in the Weidknecht Events Facebook Group.
Sign Up Here: