Disclosure: The reviewer has been compensated in the form of a Best Buy Gift Card
and/or received the product/service at a reduced price or for free.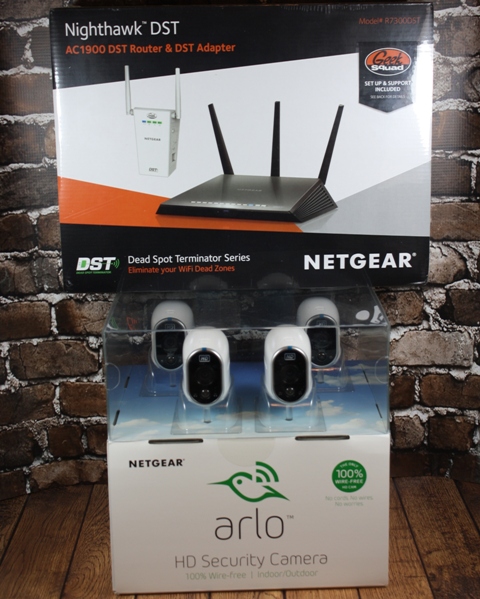 About 20 years ago, I paid an outrageous monthly amount for security monitoring by a third party company, who installed a crazy wire system (with no cameras) all over my house. That system was awful and it set off the alarm at all the wrong times. Thanks to the fabulous new technology from Netgear, we now have a smart home security system that far exceeds my expectations!
I recently received the
Netgear Arlo Smart Home Security Camera Set
and the Netgear Nighthawk DST Router and DST Adapter with Geek Squad included. The first thing that really impressed me was that the cameras are all wireless, so they can be hung anywhere - indoors or outdoors. This four camera set is available exclusively at Best Buy. The cameras come with 6 magnetic camera mounts and 9 mounting screws, to make the system super to install on a wall or flat surface.
The
new Netgear exclusive router
is a brand new router that was exclusively developed between Netgear and Best Buy to provide an easy, all-in-one solution to support devices in connected homes. I always thought having a smart home was complicated and extremely expensive, but Best Buy makes it easy! This high-performance AC1900 router was built to support 10+ connected devices and eliminate Wi-Fi dead zones with its DST Dead Spot Terminator. It also includes a Wi-Fi extender and Geek Squad Set Up and Support via phone and web for one full year. Geek Squad allows you to call, or get online help, whenever you need or want, with no need to schedule an appointment.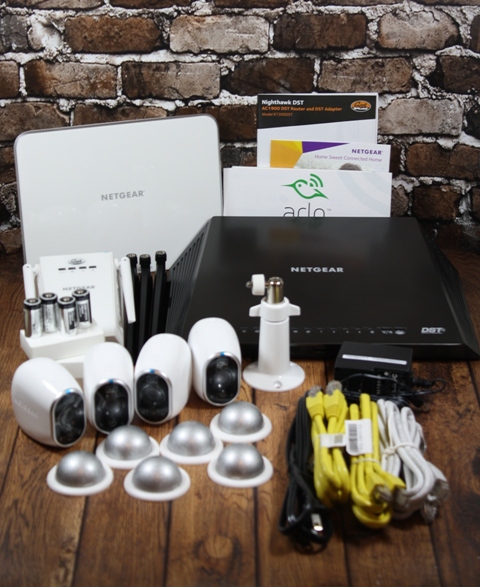 The Arlo cameras installed quickly and easily. We put two of them on our front porch, facing out towards the street and facing in towards the door, so we could see people both coming and going. We also installed one on our back patio, facing towards the two doors that lead to two interior rooms. The fourth camera went above the garage door, facing towards the street.
Arlo cameras are weatherproof for temperatures ranging from 14° to 122°. The cameras give us 720p video footage both during the day and at night, with a 130° field of view. Arlo is motion-activated, and begins recording automatically. It can even store the videos for a period of time, if you need to view them later. If anyone ever breaks into our home, I'll have high-quality video to share with the police officers.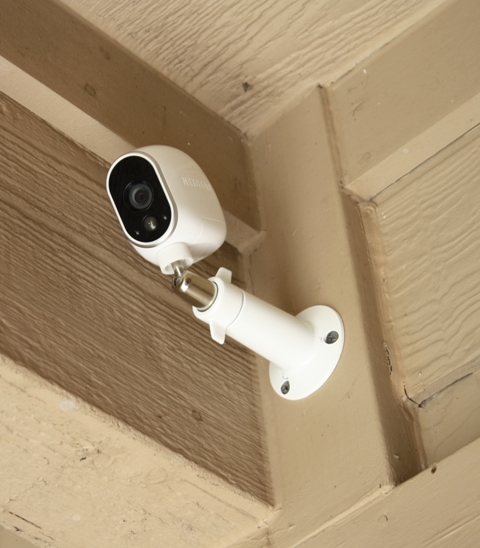 As the recording begins, Arlo sends us an email or app notification, letting us know there is movement. We can log onto the free app (available for download) to see what recorded, or we can click on the video in the email to see what recorded. The downloadable apps enable you to view live video from your compatible Android, Apple iOS, Amazon Kindle, Windows, or Mac device.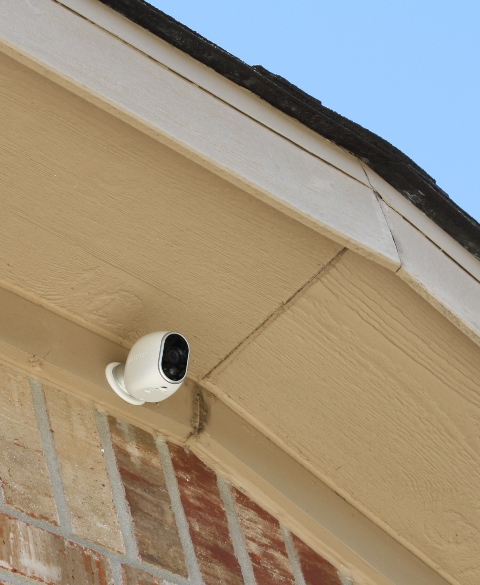 My husband set up his on his Android tablet and he gets email notifications, and I set it up on my iPhone and iPad. Since I'm a blogger, there are delivery drivers here every day, so now I'll know who throws my packages. Sometimes I even go outside and wave up at Arlo or blow a kiss, so my husband gets an email at work that makes him smile. If you have kids who get home from school before you get home from work, you'll know exactly when they came home and if anyone was with them! Here's our smart home camera views on one of our tablets:
I love having a smart home! Best Buy always has such great new products that make my life easier. The Arlo security cameras work perfectly and the new high-performance router even allows us to prioritize devices for streaming videos or music, and has advanced features for lag-free gaming. It gives me great peace of mind to know what goes on outside my house, whether I'm traveling around the world or just inside taking a nap. I highly recommend the Netgear Arlo system from Best Buy!
Get your home or business connected and protected!
Order your Netgear Arlo Smart Home 4-Camera Set and your Netgear AC1900 Router exclusively at your local Best Buy or online at BestBuy.com.