Disclosure: I received product in exchange for my honest review.
Now that I am working part time at our local post office, I'm on my feet for nearly five solid hours each day. Comfortable footwear is now a priority for me! I've been wearing the
Waldlaufer Jill Henni T-Strap
shoes in gray for several days in a row and I love them so much.
These shoes are so well constructed, with peekaboo cutouts that keep my feet cool, luxurious soft nubuck leather uppers that hug my feet, and a textured rubber sole that keeps me from sliding across the post office floors. They are super easy to slip on, with a single velcro closure strap.
To provide the ultimate in comfort, Waldlaufer added a soft cushioned footbed insole to their
Jill Henni T-Straps
. They fit perfectly around my foot, secure enough to give me full support, and there is no rubbing at my heels.
Waldlaufer
shoes look great with my work slacks, my blue jeans, and even with skirts and shorts. They are both dressy and casual, and can be worn with or without socks. I adore the gray color, but they also come in red if you want to make a bolder fashion statement.
Waldlaufer shoes are made to last, with high quality materials and impeccable craftsmanship. I've owned several different pairs of their shoes over the years and they hold up beautifully to the many hours I spend on my feet.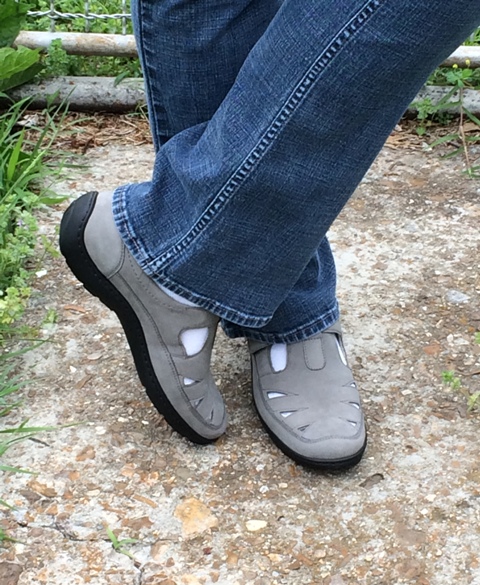 The T-Strap style is one of my favorites for spring and summer. Since I wear an official postal service uniform to work, it's one little way I can still infuse some fashion into my work day. Waldlaufer has dozens of new styles for spring!
Visit
www.waldlaufer.com
for stylish and comfortable footwear for spring and summer. Don't miss their cute sandal collection. You can browse their selection of shoes for both women and men. Shop today, before your favorite style sells out!