Disclosure: I received product at no charge in exchange for my honest review.
To the unknowing eye, a
MagnaReady
shirt looks just like any other dress shirt hanging in the closet. Same collar and cuffs, same row of little white buttons down the front. But, those buttons are merely for looks. Hidden inside the placket of a MagnaReady shirt are powerful magnets that link together for a secure closure. Decorative buttons grace the exterior of MagnaReady shirts for a crisp and professional appearance without the hassle of manipulating tiny buttons into buttonholes. Available in short and long sleeve versions for men and in long sleeves for women, MagnaReady shirts can also be used as adaptive clothing for people with disabilities or conditions that limit mobility.
In the photo below, I used different lighting so I could show how magnets actually replace buttons on these dress shirts. My husband absolutely LOVES this
MagnaReady
flannel shirt! In fact, he liked wearing it so much the first day, that he wanted me to wash it so he could wear it again the next day. I thought it was great fun to walk up to him and rip open his shirt, then let it fall back together and magnetize itself back together!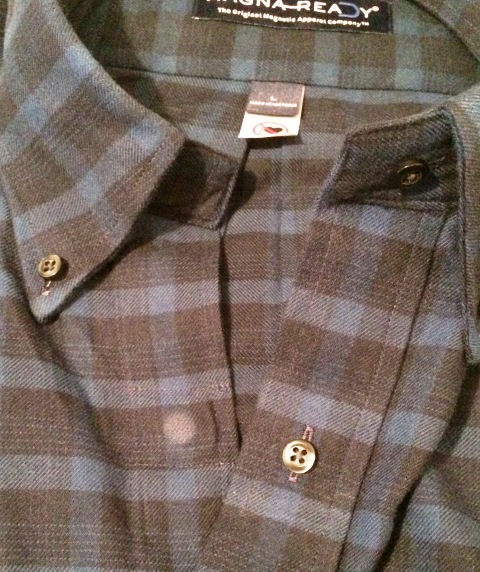 MagnaReady
dress shirts are wrinkle-free and stain resistant with barrel cuffs and a spread collar. For even more convenience they are also machine washable. Simply press the shirt closed so the magnets are stuck to each other and the shirt will tumble around the wash cycle without attaching to the machine. MagnaReady men's shirts are available in a variety of patterns and solids in more formal long sleeve versions and casual short sleeve styles. MagnaReady women's shirts are available long sleeved in white and stripes. These shirts are a fabulous idea for Father's Day!