8/9/16
Disclosure: I received product at no charge in exchange for my honest review.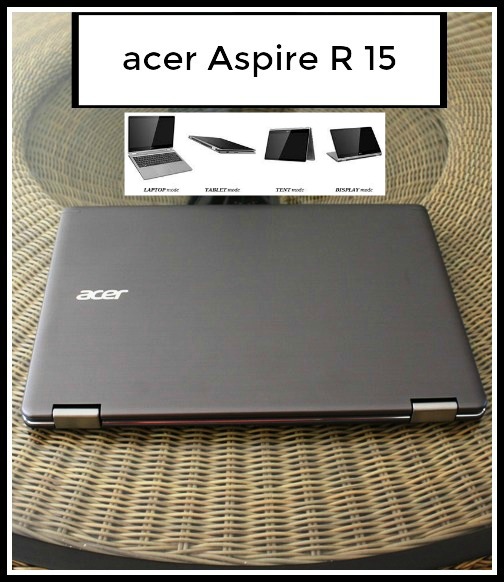 The
Acer Aspire R 15 Convertible Notebook
is a winner! If you are looking for the perfect computer to send to school with your college student, this is the one. When I took it out of the box, I was incredibly impressed with the sleek metal cover with a hairline-brushed finish. It comes with all necessary power cords and manuals, and took only minutes to set up to use.
The Acer Aspire R 15 has all the power and features needed for research projects and school assignments. The 15.6" full HD display (1920 x 1080 resolution) with IPS technology provides a crisp, clear picture and the narrow border design delivers maximum viewing area. The large screen makes it easy on the eyes. I love the light-up keyboard too!
The Acer Aspire R 15 can be used as a laptop, a tent, a display (with keyboard face-down), and a tablet. It has a 360-degree dual-axial hinge the provides the flexibility and strength needed to convert easily between the modes. The screen view and the bold audio (Acer TrueHarmony and Dolby Audio) respond instantly when the screen is turned to a different orientation.
The Acer Aspire R 15 is also the perfect entertainment hub for relaxing after studies. Its long battery life and durable design make it ideal for carrying to classes and then back to the dorm. It has a powerful 6th gen Intel Core i5 processor to deliver premium performance and great battery life of up to nine hours. The thermal design ensures it stays cool to the touch and runs smoothly. It also features 8GB DDR4 memory and a 1TB hard drive.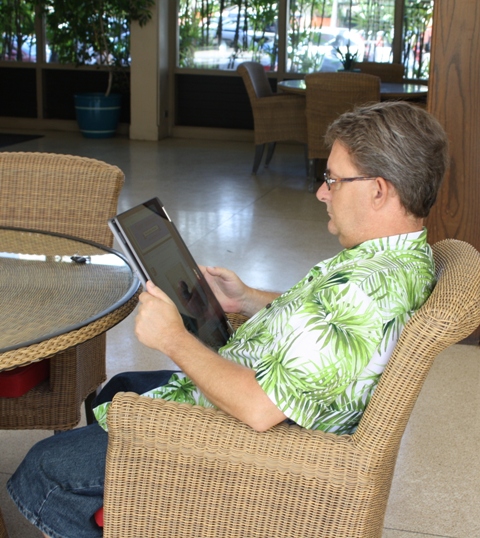 The Acer Aspire R 15 has a USB Type-C port (3.1 Gen 1) that provides fast data transfer up to 5Gbps. It is about 67% smaller than standard USB ports and the reversible design means there's no need to worry any more about plugging cables in upside down. There are also lots of other ports available for connecting external devices including USB 3.0, USB 2.0, and HDMI.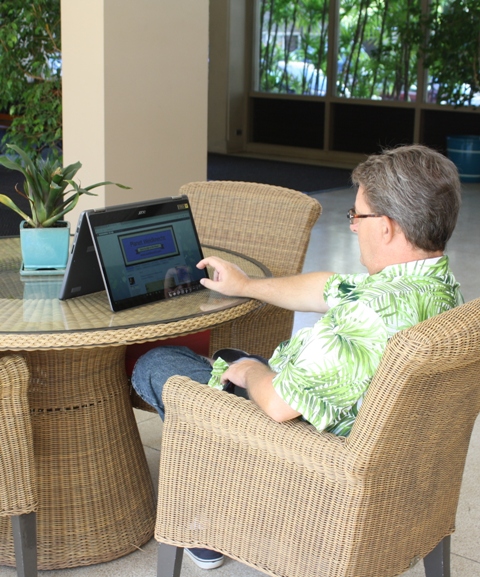 The Acer Aspire R 15 has a responsive touchscreen and built-in mousepad. In addition, the patented ExoAmp antenna enhances wireless reception without spoiling the device's exterior. There is even an anti-fingerprint coating that keeps oils from fingers from sticking to the display. I really love the Acer Aspire R 15 and, after hearing my husband audibly gasp at it, I knew this new computer was now his, not mine. I'm thinking we may need a second one!
Learn more about the Acer Aspire R 15 Convertible Notebook at