Crumbed Chicken and Salsa in Pita
from
Healthy Home Cooking for Kids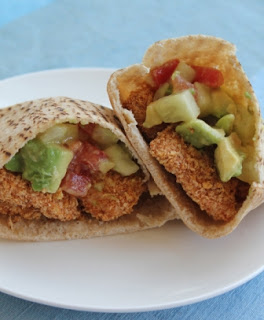 ingredients
2 chicken fillets, butterflied
1½ cups wholemeal (wholewheat) breadcrumbs
1 teaspoon mild paprika
salt
salsa
1 avocado
1 cucumber
2 tomatoes
1½ tablespoons lemon juice
1 tablespoon olive oil
salt
4 wholemeal (wholewheat) pitas
mayonnaise for serving
Preheat oven to 180°C (350°F) fan-forced. Slice chicken into nuggets, approximately 4 cm long. Place breadcrumbs, paprika and a pinch of salt in a bowl and mix (for preparation of breadcrumbs, see cooking tips). Dip chicken nuggets into breadcrumbs until coated. Cover a baking tray with foil and place nuggets on tray. Cook for 25 minutes.
To prepare salsa, dice avocado, peeled cucumber and tomatoes, and place in a bowl. Toss with lemon juice, oil and salt to taste.
To warm pitas, wrap in foil and place in oven for 2 to 3 minutes.
To serve, spread some mayonnaise over the base of the pita, and top with chicken nuggets and salsa.
Serves 4.