Disclosure: I received product at no charge in exchange for my honest review.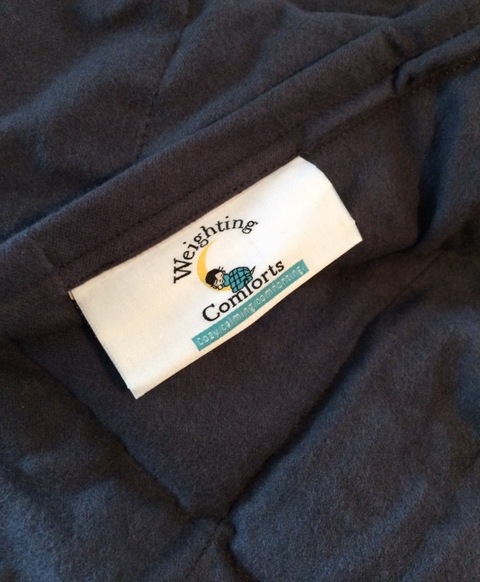 When I was working as an early childhood teacher, I was aware of the concept of weighted blankets that helped young children settle down and sleep, especially those with ADD and ADHD. Since receiving a weighted blanket from Weighting Comforts, I've learned they are also extremely beneficial for adults.
Weighted blankets
can help people with anxious feelings or panic symptoms, stress and tension, insomnia, peri-menopausal and menopausal symptoms, PTSD, restless leg syndrome, sleep disorders, Alzheimers, Parkinson's Disease, Asperger and Autism, and sensory disorders.
Weighting Comforts sent me their twin-size
flannel cotton weighted blanket in charcoal
, which goes perfectly with my bedroom color scheme, and it's apparent immediately that this is a weighted blanket. It weighs 15 pounds, their most popular product weight, and in each quilted square of the blanket there are small, loose pellets that add the weight. The pellets are made from a PVC compound produced using FDA-approved, non-hazardous materials. The ideal blanket weight is generally 10% of your body weight.
A
weighted blanket
works like a deep tissue massage, releasing serotonin throughout your body to help you calm down and relax. I've recently started working a new part-time job, and when I lay down at night to sleep, I have so much new information rolling around in my brain that it is hard to settle down to sleep, plus I'm stressed out and end up dreaming about work. I am also exhausted and somewhat sore, and I find myself tossing and turning. When I received my Weighting Comforts blanket, I stretched out on the bed that day for an afternoon nap. It feels wonderful to lay under one of their blankets. I don't even remember falling asleep but when I woke up several hours later, I was fully rested and feeling great. I've been using it about a week now at night and it has helped me sleep much better!
Weighting Comforts
weighted blankets
come in lots of different fabrics, weights, and styles. Their website will walk you through choosing the best weighted blanket. Each blanket is perfectly sized for one person, so you can find the right blanket just for you. Their weighted blankets are machine washable and can tumble dry on low. I absolutely LOVE my Weighting Comforts weighted blanket! Order yours today!