Disclosure: I received product at no charge in exchange for my honest review.
Books are always a perfect gift, no matter the age of the lucky recipient! National Geographic Kids books are some of the most beautiful, most fascinating, and most loved books in the entire world. Here are some of my favorites to gift this holiday season!
Weird But True Christmas: 300 Festive Facts to Light Up the Holidays
- This paperback is the PERFECT stocking stuffer for ages 8-12! Ready for some totally festive facts? Even Christmas can be weird -- it's true! Did you know that Santa's reindeer are probably all female? Or that artificial snow can be made from seaweed? Or that "Jingle Bells" was the first Christmas carol sung in space? Every kid will ho-ho-ho when they unwrap this book that is chock-full of the most random and fascinating facts about their most favorite holiday. Get it
HERE
!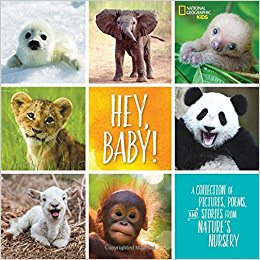 Hey, Baby!: A Collection of Pictures, Poems, and Stories from Nature's Nursery
- Sweet dreams are made of this! Join National Geographic Kids on a trip around the globe to celebrate nature's nursery.This collection of stunning photography of wee ones of the wild world will inspire, awe, and awww. With dynamic profiles, clever poems, time-tested folktales, amazing rescue stories, and unlikely animal friendships, this book will be a favorite with sleepy little ones, new parents, and moms-to-be. Featuring everything from wobbly baby bison to teeny turtles, mini-monkeys to fluffy foxes, this is the perfect keepsake book for the baby animal lover in us all. An awesome book for all ages! Get it
HERE
!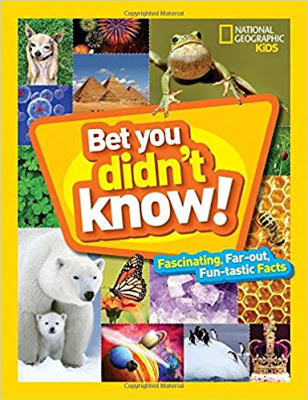 Bet You Didn't Know: Fascinating, Far-out, Fun-tastic Facts!
- Did you know that the first stop signs were black and white? Or that a litter of kittens is called a kindle? Or that butterflies can see more colors than humans can? Based on a favorite department in Nat Geo Kids magazine, this book is overflowing with fascinating facts, silly stats, and catchy little knowledge nuggets in all kinds of cool categories, from astronomy and sea creatures to revolutions and breakfast. Special features include Extreme Weirdness, Strange Places, Wacky World, and more. An excellent hardcover choice for ages 8-12. Get it
HERE
!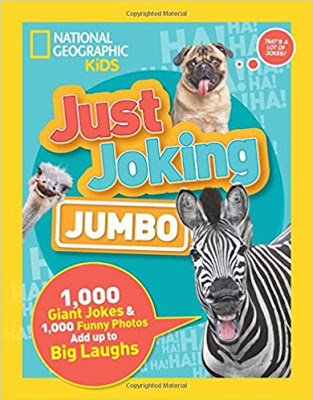 Just Joking: Jumbo: 1,000 Giant Jokes and 1,000 Funny Photos Add Up to Big Laughs
- What do you get when you have 1,000 giant jokes and 1,000 funny photos? A stocking stuffer that adds up to some seriously big laughs! If you have a budding stand up comedian on your list this year - this is the perfect book for them. Knock-knocks, puns, riddles, tongue-twisters, photos of silly situations and even the craziest info about the history of funny business - it's all here. Ages 7-10 will love this paperback book! Get it
HERE
!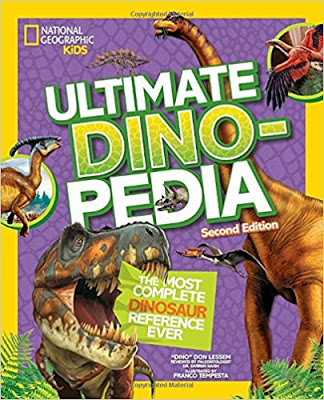 Ultimate Dinopedia, Second Edition
- Attention dinosaur fanatics! This is a big, gift-worthy hardcover that is also the most complete and comprehensive dinosaur reference ever. Although these amazing creatures roamed the Earth ages ago, new dinosaur discoveries are still being made today. The new edition includes favorites, like the fierce T-rex and the gentle Brontosaurus, plus audacious new finds, like the Anzu, Kosmoceratops, and Yi. Every dino profile is colorfully illustrated and features descriptions of when they roamed the Earth, how they lived, what they ate, and more. There are more than 600 dinos featured in all, including 10 profiles of recently discovered dinosaurs and new entries in the Dino Dictionary. Reports from paleontologists present the latest news and insights from the field. A gorgeous hardbound book for ages 7-10. Get it
HERE
!