#sponsored travel
Yachtsman Grill
is another fabulous restaurant on the island of
Nevis
that overlooks the Caribbean sea for an amazing sunset dinner. They have a HUGE wine list and their decor is classy and nautical. Chef Scott Higby of Austin was a guest chef and he sure knows how to combine the bold taste of Texas ribs with the sweet taste of Nevis' plentiful mangoes for a delectable dinner. Scott's lovely wife Karina Akhavan, a fabulous pastry chef, crafted the incredible dessert.
I dined with two wonderful people from the
Nevis Tourism Authority
, Devon Liburd and Angelique France. We started with Mango Mahi Ceviche and fresh corn chips. It was both sweet and spicy, sort of like a mango salsa. I also enjoyed a Mango Smoothie Cocktail.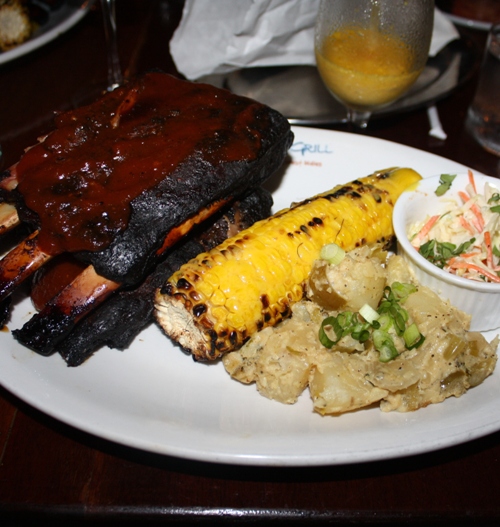 Dinner portions were certainly Texas-sized! Chef Scott prepared each of us a half rack of slow-smoked Baby Back Ribs with his Double Secret Mango Barbecue Sauce. I really wish I had that sauce recipe! We also had Mango Cole Slaw, German Potato Salad, and Seasoned Roasted Corn on the Cobb. Everything was absolutely perfect. I could only finish about half of my food!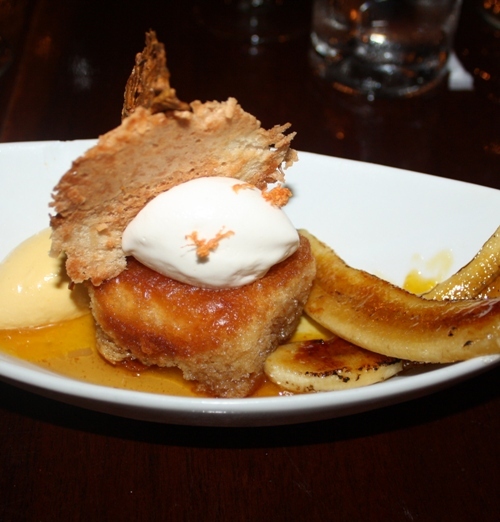 Karina made her Rum Baba (which is a sort of rum-soaked cake) with fresh Mango Ice Cream. Amazing! I had the pleasure of interviewing Scott and Karina earlier in the day and watched some of the preparations for the dinner. There's a whole lot of delicious rum in Karina's Rum Baba!
I asked Scott what he felt was the most difficult thing about being a chef in Nevis versus Texas. He laughed and said he knew where everything was at in his kitchen at the Four Seasons Austin. He noted that the chefs in Nevis seemed naturally and independently knowledgeable about running a high quality restaurant kitchen, whereas in America there many more people in the kitchen and more written regulations. All I know is that the food is Nevis is better than just about anything I've eaten in America.
on Hamilton Beach on Nevis
Read more about my trip to Nevis HERE!