Disclosure: I received product at no charge in exchange for my honest review.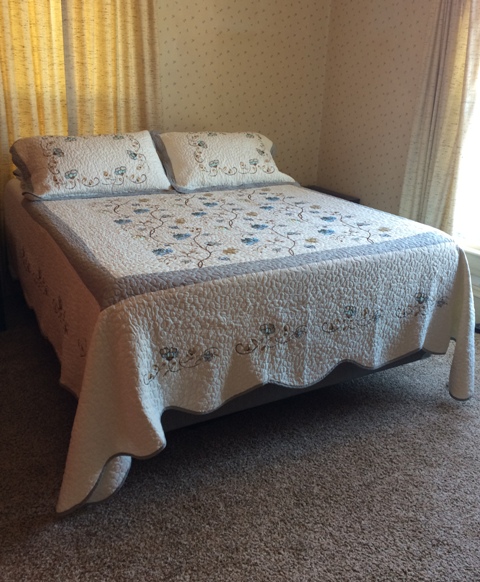 There is no faster way to update a bedroom than changing the bedding. Pardon the very old curtains and wallpaper which will both be updated at a later date. Our little house was built in 1888 and updating the rooms to a more modern farmhouse design is so much fun. I just knew a quilt was the perfect topper to our bed and
Wikibuy
helped me find the best offer on my new bedding set!
This bedding set includes a high quality, fully quilted, embroidered bedspread plus two matching pillow covers. It comes in about a half a dozen different colors, so I chose the beige/gray to pull in both warm and cool colors. Since our new carpeting leans toward brown, it picks up the beige. The walls will eventually be a bright white and I can hardly wait to reveal the 1888 window casings to you!
The quilting stitch is a fun, tumbling, curvy design and the embroidery is simply breathtaking. The embroidery features shades of browns, blues, and grays. I bought the queen/king size, which measures 102" x 92", for our queen size bed and although the package is actually marked king size, it fits perfectly on a queen.
The gray edging on the quilt perfectly sits around the top edge of a queen size mattress and the scalloped edges just brush the floor on the bottom corners. The pillow shams are also fully quilted and embroidered with matching gray edging. It's truly the perfect choice for my farmhouse style! I will probably choose decor for the rest of the room that pulls the grays and blues out, since the tables and dresser are dark brown.
Sleeping under this quilt is just dreamy! It's the perfect weight without being too heavy, and doesn't feel thin or cheap at all. It's made of polyester and polyester blend materials, so I can toss the set in the washer anytime it needs cleaning. I am absolutely thrilled with my new quilt set and I don't think I'd ever find one that fits my farmhouse theme better.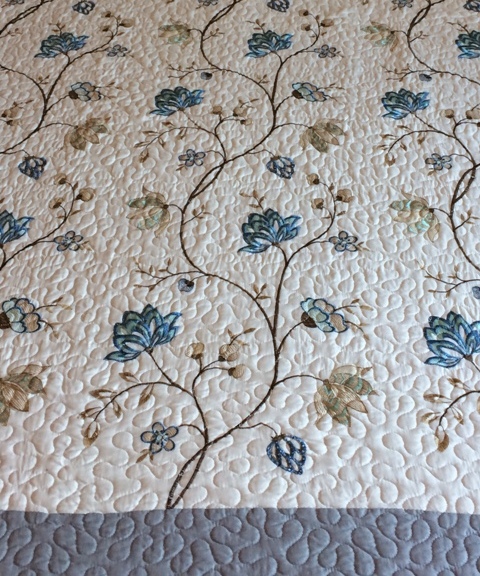 Come back to my blog often and check for more posts on our 1888 house renovation and design. We are doing all of the renovation ourselves and will continue to share our designs and updates as we go. There is a lot to do, so we are just tackling one project at a time. Thanks for reading!