Disclosure: I received product at no charge in exchange for my honest review.
If your refrigerator's fruit and vegetable drawers are where your fresh food goes to die, then you need to order the
5-Tray Food Dehydrator
from Promotion.com! By dehydrating your fruits and vegetables, you can keep them on hand for up to six months, eliminating the need to throw away food you've already purchased. Dehydrated foods also take up much less space in your kitchen.
Many families shy away from Food Dehydrators because of their bulky size, but the Promotion.com Food Dehydrator is compact, measuring just 12"x9"x8" including the base, all five trays, and the lid. Some people believe Food Dehydrators are complicated, but this one features two simple buttons, one for time and one for temperature. Even a five year old could figure this one out!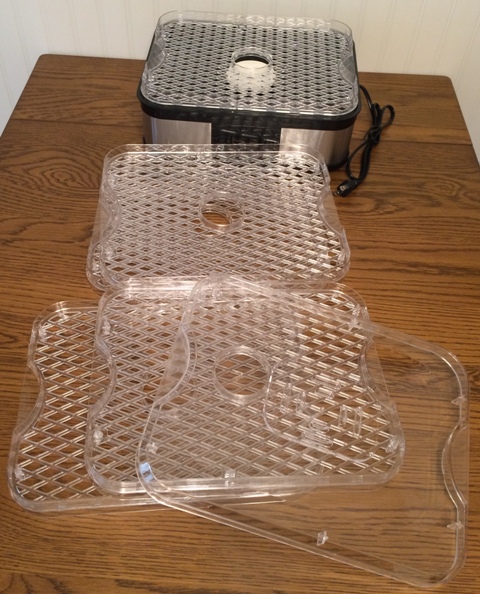 I have seen other brands of dehydrators that cost upwards of $500.00, but this 5-Tray Food Dehydrator from Promotion.com is currently on sale for just $41.99. I do not know how long this amazing price will last, so I highly recommend you
click over to their website
and buy it today! You'll be able to dehydrate your fruits, vegetables, meats, seafood, seasonings and herbs, as well as crude medicine.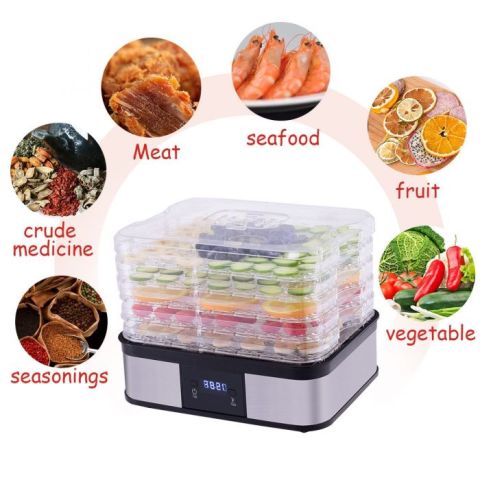 Dehydrating foods is easier than you think! For my first use of the Promotion.com
5-Tray Food Dehydrator
, I selected apples, bananas, strawberries, and blueberries. In a medium bowl, I mixed one cup of water and 1/4 cup of lemon juice (you can also use either lime juice or pineapple juice). I cut three apples into slices about 1/4" thick, then dropped each slice into the lemon water for 5 minutes to soak, then laid them out flat on the tray.
For the strawberries, I trimmed off the leaves and cut each one in half, with the larger strawberries getting cut into thirds. I also gave them a 5 minute bath in the lemon water before laying them on the tray. The five trays are made of plastic and are dishwasher-safe for fast and easy cleanup. I especially like that the trays are all clear, so you can easily see all of your dehydrating foods at a glance without having to open it to check on the progress.
The blueberries also got a lemon water bath before being spread on the tray. The citrus in the lemon water helps to preserve the fruit and once the fruit is dehydrated, you can either eat it as a delicious dried snack or you can choose to rehydrate it by soaking it in water before eating it. Either way, your family will be eating healthy, scrumptious, natural foods. Have you priced dehydrated fruit at your local grocery store? It's outrageous that they want $5 for a tiny bag of dried fruit! It's so much cheaper to do it yourself at home with a food dehydrator.
The bananas were prepared just a bit differently. Rather than give them a lemon water bath, I misted the lemon water over each side of the banana slices, then sprinkled them with cinnamon sugar once they were laid out on the trays. Overall, it took me about 15 minutes to prepare five trays of different kinds of fruit for my
Food Dehydrator
. Dehydrating foods with your kids is a great opportunity to let them help in the kitchen without a huge mess and to teach them about healthy foods and food storage.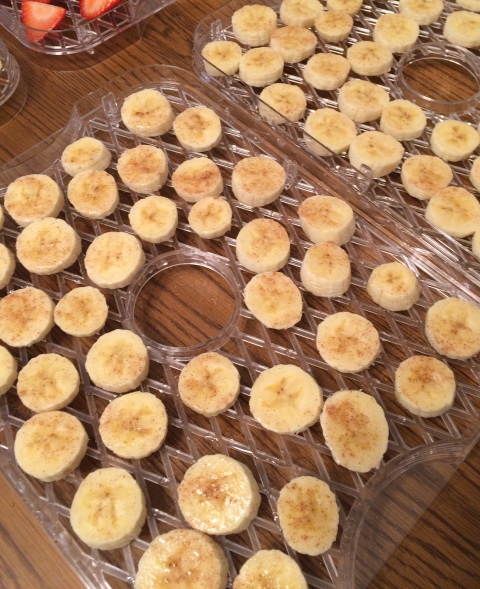 The Promotion.com 5-Tray Food Dehydrator is so simple to use. Once all the trays are stacked onto the base, plug it in, and press the Time button to turn it on. When it flashes, you can adjust the time up or down in increments of hours. Then you press the Temp button to set the temperature. Not all foods will dehydrate at the same time, but you can easily remove any tray of food when it is done, then continue to dehydrate the others.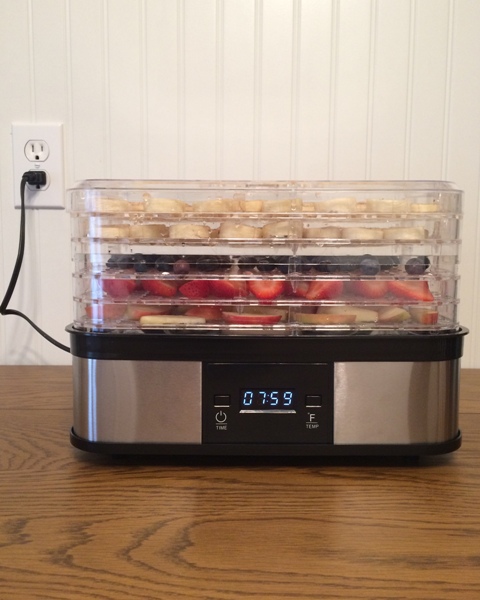 My apples were done in about 8 hours, my strawberries took about 10 hours, and my bananas and blueberries took 12 hours to dehydrate. I set the temp at 140 degrees F. Look how much smaller the fruits are (below) once they are dehydrated! These delicious dehydrated fruits take up so much less room and now I can store them at room temperature in a baggie or container. No more rotten fruits will be tossed in our trash can!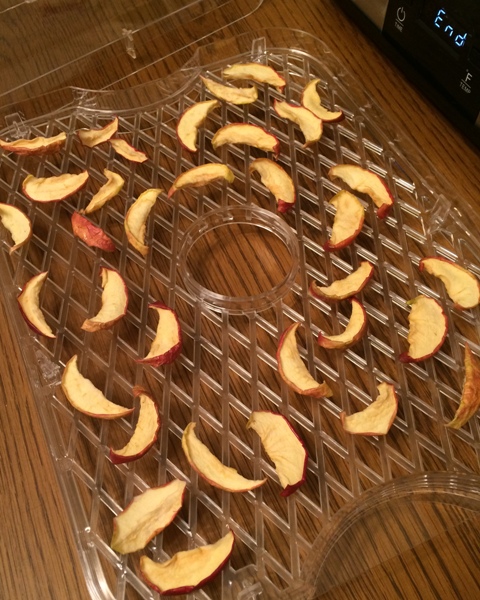 If you love "prepping" by keeping a full pantry or if you love canning foods, you're going to want this
Food Dehydrator
from Promotion.com. You will be able to store so much more food in much smaller containers, and you won't have to buy the extra supplies needed to can foods. This power-saving small appliance is going to save you money, prep time, and storage space. Plus, it only costs $41.99 right now at Promotion.com, so hurry and order yours today!
I can hardly wait to experiment with vegetables, meats, seafoods, and seasonings. Gardeners will love this Promotion.com Food Dehydrator, because sometimes you have to harvest way more than you can possibly eat right away. This will come in handy for dehydrating fresh herbs and spices too! This 5-Tray Food Dehydrator is an excellent holiday gift idea for anyone, and since we all need to eat, we may as well be eating healthy and saving money while we're doing it!
Promotion.com offers a huge line of kitchenwares, as well as, electronics, furniture, pet supplies, health and beauty supplies, sporting goods, toys and games, baby and toddler items, hardware, office supplies, and much more. They have so much to offer that I created a
Wish List
of fabulous Promotion.com items that I want for the holidays and beyond. I am extremely impressed with my 5-Tray Food Dehydrator and highly recommend it!
Get all your holiday shopping done
at this fabulous price before it's gone!