We moved into our empty nest home in August and every room in the house needs attention. We are working our way through the house with our renovations. We have just finished our guest bathroom remodel and I'm so excited to reveal it to you!
Note: If you click through on any of the text links, it will lead you to the product we used for the remodel. Some of them are affiliate links.
This is how the guest bathroom looked when we bought the house. This is the realtor photo from the online listing: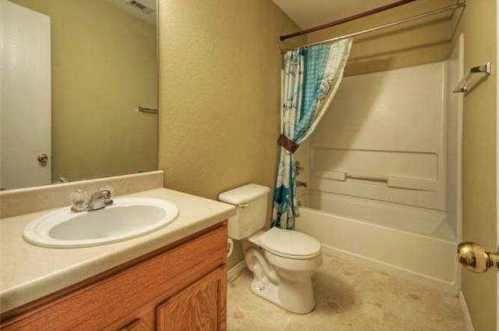 Since this is the bathroom that all of our guests will use, I wanted it to be stunning. My husband ripped up all of the linoleum flooring and put down
ceramic tile
. It was his first tile job ever and he did a fantastic job.
Since the entire house is only 1200 square feet, we need lots of extra storage. I finally found cabinets that I like to surround the toilet. It's actually three cabinets that my husband modified to look like built-ins. I bought two
tower cabinets
and one
wall cabinet
and he attached them together and then to the wall. He added a wood base to the bottom of the towers and I stained them to match.
I also stained the sink cabinet to match the other cabinets. I used
Java Gel Stain
which is the best stain I've ever used. It's really thick, like a pudding, so it's nearly mess-free. I used two coats of the Java Gel Stain and then two coats of
Polyacrylic Satin Topcoat
. We also added chrome knobs to the cabinet doors on the sink cabinet.
Ice Blue towels
and the bathmat from a review I did, so I bought white towels to set in the tower cabinets. All my cleaning supplies are hiding in the bottom of the tower cabinets.
Wall Sconce
features the same chrome as the other fixtures. The beautiful blue paint on the walls is
Behr Ice Folly
.
here
.
Share this post with the buttons below!