#sponsored
Royal Caribbean's Liberty of the Seas is the third largest cruise ship in operation and you can see its massive size (the middle ship) compared to the other two that are docked alongside it. Although I didn't spend too much time in my stateroom, it is always very important to me to have clean, comfortable, safe quarters. Walking into my room on the ship, I was immediately impressed.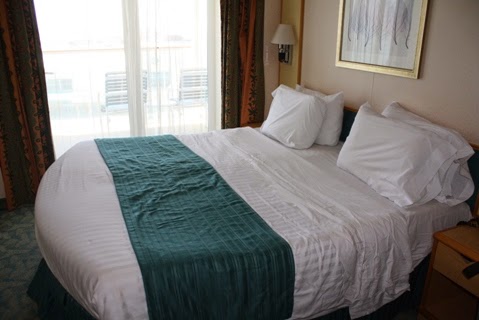 The room had a comfortable king-size bed with plenty of pillows and a view of the ocean balcony. At night, I could lay in bed and gaze at the stars and listen to the sounds of the waves. The king-size bed can also be divided into two twin-size beds! There is also a nightstand with a drawer on both sides of the bed.
Along one wall there was a large desk area with a chair, plus drawers, shelves, a hidden refrigerator, a flat screen television, and a large closet with hangers and more shelves. The warm, welcoming atmosphere of the room invites you to unpack and move right in, even if only for a few days.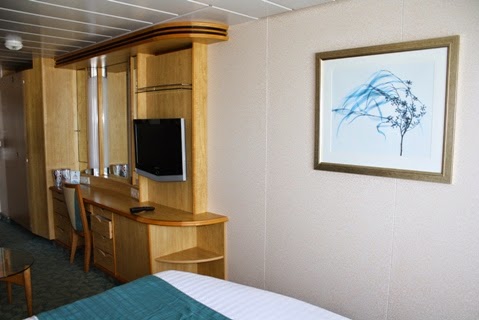 Along the other wall was a full size couch (roommate not necessarily included) and a coffee table. A curtain even allows for a bit of privacy between the sitting area and sleeping area. There is also a full-length mirror right outside the bathroom door. There is a great variety of lights around the room too. Air conditioning keeps the room nice and cool.
The bathroom features a stand-up shower, sink and toilet. Royal Caribbean even provides soap and shampoo/conditioner in the room. Rooms are cleaned daily and fresh towels are provided daily. There is no need to bring pool towels along because those are provided on-board Liberty of the Seas too. I packed for a four day cruise in just a carry-on and laptop bag (and I'll share my packing list and tips in another post).
The balcony outside the sliding glass door to my stateroom was one of my favorite spots. If you're considering a cruise, it's definitely worth the upgrade to a room with a private balcony. Who wouldn't want to wake up to a view like this each morning? It was so good for my soul to stand out there, watch the sun rise and set, breathe in the ocean air, and listen to the ocean.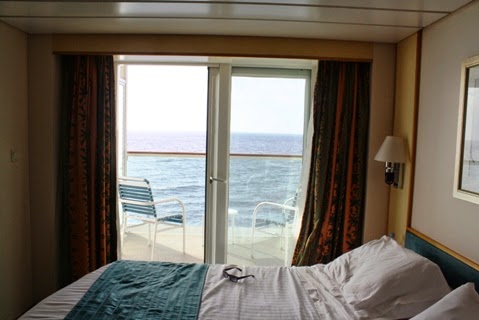 The views are spectacular! Since this was my first cruise EVER, I was like a little girl in a candy store. Everything excited me and awed me. The expanse of the ocean didn't intimidate me like I thought it might, but instead made me feel like an explorer. It made me feel more connected my ancestors who traveled by ship across the ocean to become American citizens many years ago.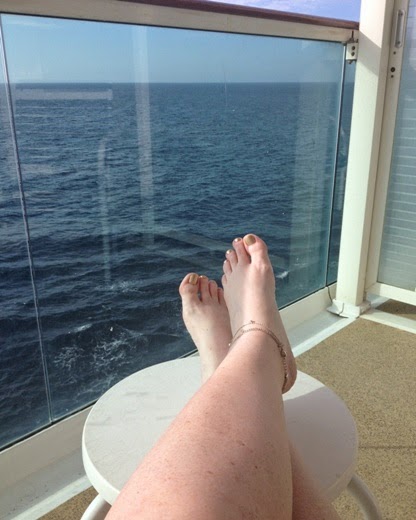 Guest rooms on Royal Caribbean are maintained by room attendants, or room stewards. Even better, the same person comes every day. Marco was our room steward and he is the BEST! One afternoon I walked into the stateroom and suddenly realized my reading glasses weren't where I left them, sitting next to my laptop. I frantically tore that room apart for about 20 minutes, looking for them. I took everything out of my suitcase, looked in every drawer, and even looked under the bed.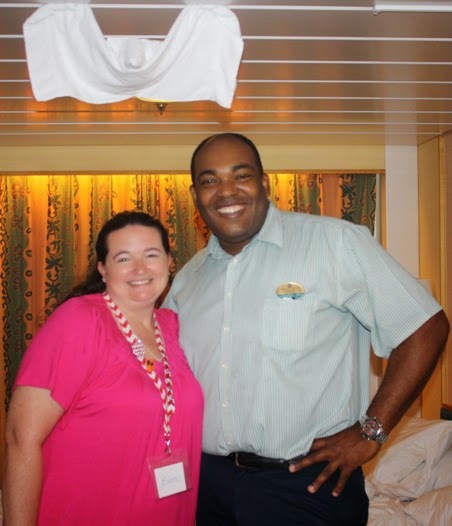 I was really close to totally freaking out when I noticed something hanging from the ceiling. I looked more closely and Marco had created an amazing towel bat that was wearing my glasses! It is the cutest dang bat I've ever seen. I had to go find Marco and let him know that he really got me with that one. I left our towel bat hanging up in our room the rest of the cruise! Isn't it cute???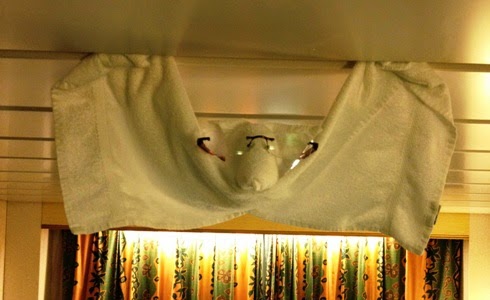 Marco also created an adorable towel doggy on another day, but there was no way he was going to beat the bat escapade! I found out while on the cruise that it is really important to the company to be vocal about the little things (and big things) that their crew does to make the vacation more enjoyable. Marco did a fabulous job, from maintaining every part of the room, to even hollering back "Polo!" whenever I saw him and yelled "Marco!" at him. Honestly, there wasn't anything in the stateroom that left me disappointed.
Stay tuned because I have MANY more stories and photos to share with you about my cruise with Royal Caribbean! If you have never been on a cruise, I encourage you to do it. It's an amazing vacation experience in every way that can be matched by nothing else. I can hardly wait to take another cruise with Royal Caribbean! Read my other cruise stories
HERE
.
Book Your Royal Caribbean Cruise Now At