Disclosure: I received product at no charge in exchange for my honest review.
It's been years since I've had a Waffle Maker so I was really excited to try out the Promotion.com
Professional Waffle Maker
. This beautiful stainless steel waffle maker is so easy to use with just one simple dial for adjusting temperature and indicator lights for power and readiness. The ergonomic cool touch handle is a fabulous feature too!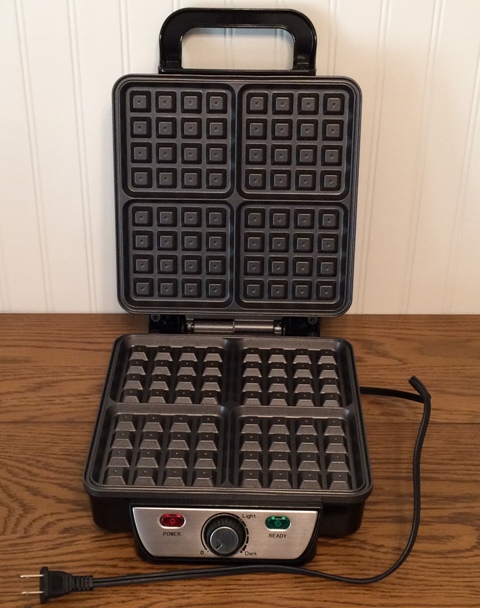 This Waffle Maker has been on my Promotion.com wish list for a few months! It features nonstick waffle plates that evenly bake Belgian waffles that are easy to remove when they are ready. It's very easy to store at just 13"W x 9.1"D x 4.3"H and will even sit vertically in your kitchen cabinets to help you maximize your storage space.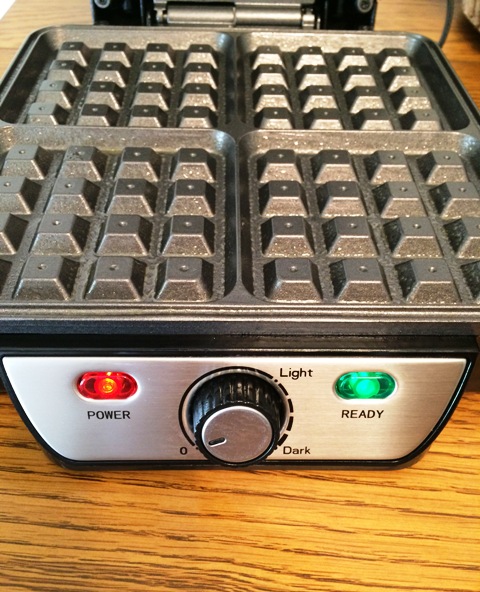 I sprayed a bit of nonstick cooking spray on my waffle maker the first time I used it, which helps to "season" the nonstick coating and make it last even longer. Then I whipped up a quick waffle batter and made absolutely PERFECT waffles on the first try! You can also add fruit pieces to your waffles, like blueberries, diced peaches, or strawberry slices. Chocolate chips are also a delicious add in!
Did you know there are many waffle maker ideas beyond waffles? This
Waffle Maker
offers so much flexibility for all kinds of delicious foods. For our Saturday breakfast, I opened a tube of prepackaged cinnamon rolls, cut each slice into quarters, and arranged them on my preheated waffle maker. Once they were waffle-baked, I spread the icing on top, then served them straight to plates. It was like pull apart rolls but took much less time to prepare. Waffled Cinnamon Rolls are absolutely delicious!
Sunday morning breakfast was also a hit! After preheating my Waffle Maker, I generously sprinkled pre-cut hash brown potatoes on the waffle plates, then lightly layered ham pieces and shredded pepper jack cheese, and topped it off with more hash brown potatoes. This turned out SO GOOD and could easily be modified for any type of meat or poultry and any shredded cheese. This Waffle Maker is really easy to clean too; none of the cheese even stuck to the waffle plates, it just wiped right off. Tator tots are another way to use potatoes in your waffle maker.
Waffle Makers
are also the perfect way to make amazing ice cream desserts! I used chocolate chip cookie batter to make delicious Cookie Waffles and then topped them with vanilla ice cream and drizzled chocolate syrup all over it. I love using waffles for this dessert because the syrup runs down the ice cream and pools in the waffle holes. Another way to use these would be to cut each waffle into four pieces and spread ice cream on one piece and top with another to make Ice Cream Sandwiches.
More great ideas for your Waffle Maker include: waffled grilled cheese sandwiches, waffled omelets, waffled brownies (which is also another great ice cream foundation idea), quesadillas with tortillas and cheese, and any bread or cake batter for delicious and fun foods that can be topped with jellies, cream cheese, frosting, icing, or fruit butters. The possibilities are endless and the Waffle Maker from Promotion.com can easily handle all your creative food ideas. I highly recommend this
Waffle Maker
and think it would be an amazing holiday gift idea for moms, dads, college students, newly married couples, and anyone who loves delicious, quick and easy meals!
Save money now on this amazing
It's on sale today, and you can save even more
when you use special promo code
PROM
for $5 off a $50+ purchase,
plus get free shipping on everything on their website!