Disclosure: I received product at no charge in exchange for my honest review. Post contains affiliate link.
If you have a budding astronomer or astronaut in your home, then I have found the perfect gift that will make you a star this holiday season! The
Smithsonian Exploration Station: Solar System
is an activity box that delves deep into outer space in a fun, educational way.
The
Solar System
exploration station includes a book, a poster, reusable stickers, glow in the dark stars, and space play figures, plus a unique storage box that holds everything (and is flat on the bottom so it can easily sit on its side on a bookshelf.
The 56 page fact book is a paperback with quality high gloss pages, full of amazing photographs and interesting facts about the planets, the moon, comets, and much more. Targeted towards school-agers, the exploration station will answer some of their questions, and will likely spark new intrigue about the solar system.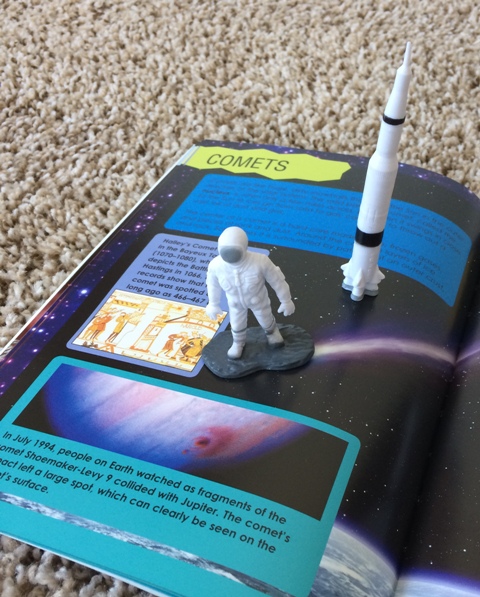 The five play figures are definitely going to be a favorite aspect of the Solar System
exploration station
. Everyone loves to countdown and blast off to the moon! Included are two astronauts, a satellite, a space shuttle, and a rocket, all made of a durable plastic.
The laminated poster and the reusable stickers are a fabulous way to become more accustomed to where the planets orbit around the sun in our solar system. There are three sheets of stickers for a total of 30 stickers, including the planets and their names. Your child will spend hours exploring the
Solar System
!
There are also 22 glow in the dark stars, made of plastic, and two sheets of double-sided sticky dots, so you can adhere the stickers to your child's bedroom ceiling. When darkness falls, the stars will cast a soft light. You could even arrange them in a constellation!
I think the Solar System exploration station from Smithsonian is fantastic! My own kids loved these kinds of activity boxes when they were younger and I know yours will love it too. There are several different exploration station themes available.