Disclosure: I received product at no charge in exchange for my honest review.
Fire trucks are probably one of the first vehicles that young children can easily recognize. In my 25 years of teaching preschoolers, I cannot even count how many of them wanted to be firefighters. The
Myland Fire Truck
by Kid O features a chunky red fire engine with lift-up ladder, a fire fighter, and a dog. To make it even more fun, there are lights and sounds!
Your kids are going to love the Myland
Fire Truck
! They won't even realize they are learning new developmental skills while they play. Children will practice social skills as they role play sending the fire truck out to fires, helping the play figures to climb the ladder, and pretending to put out fires all over town. Children will use their motor skills to move and push the truck around, to lift and lower the ladder, and to place the fire fighter and dog into the fire truck.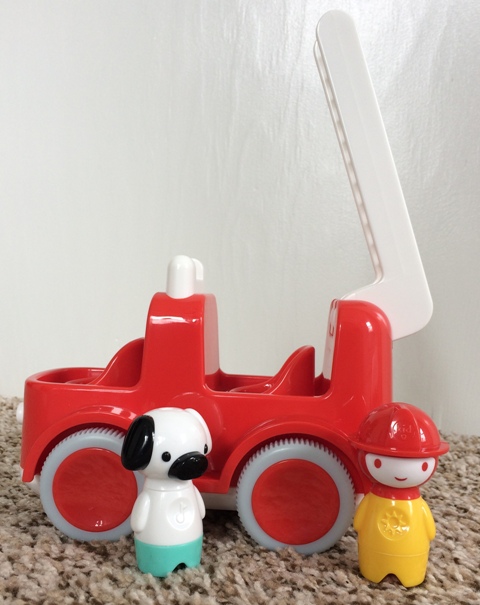 The hidden learning experience comes when children place the fire fighter in the front seat and the dog in the back seat. Notice the fire fighter's lower half is yellow and the dog's is green. In the photo below, notice the same color seats in the fire truck. Children will learn when they color match the fire fighter the siren lights come on and when they color match the dog the sounds come on. These cognitive skills will also be enhanced by children using their senses (sight, hearing, and touch). All that learning will be happening, but your kids will just love playing with it!
I love the open-ended play the Myland Fire Truck offers! I also love that Kid O has a whole line of Myland Toys for imaginative play, including a house boat, play house rooms, and a UFO, as well as a horse, a dinosaur, and a seal that the Myland characters can ride. Each Myland toy comes with its own figures so the more play items you add, the more little friends your child can add to their collection. It's a great gift idea for youngsters!