Disclosure: This post contains affiliate links.
When we first bought our little 1888 Kansas farmhouse back in October of 2017, the guest room decor was abysmal. It featured decades-old green carpeting, wallpaper with purple flowers and green leaves, plus a dropped ceiling complete with metal tracks. The estimate on that decor update was probably late 60's or early 70's. We replaced the carpet before we even moved in, stripped and repaired the walls over several weeks, painted everything white, then decided it was time to remove the dropped ceiling. We were terrified what we might find when we took down the dropped ceiling tiles.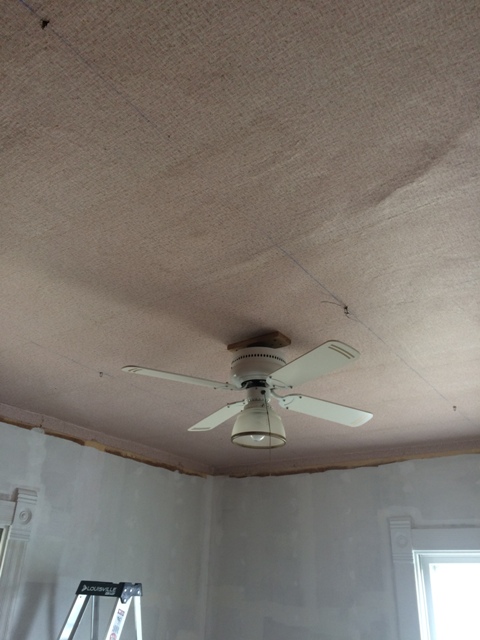 This room is part of the original two room house built in 1888. The ceiling had, at some point, been covered with a red/pink tweed-looking wallpaper. Rather than remove the wallpaper, the previous owner had installed a dropped ceiling. We reinstalled the ceiling fan against the ceiling, removing the wood block that had allowed the fan to lay flush against the dropped ceiling. I was delighted with the extra six inches the room gained! The ceiling was a bit wonky, but it is 130 years old, and I had seen an ad for
decorative ceiling tiles
that glue right up to the ceiling. We decided this was the best course of action so that we could simply cover up the existing ceiling while keeping the height of the room. We even hung the new curtains much higher to emphasize the 9 foot walls.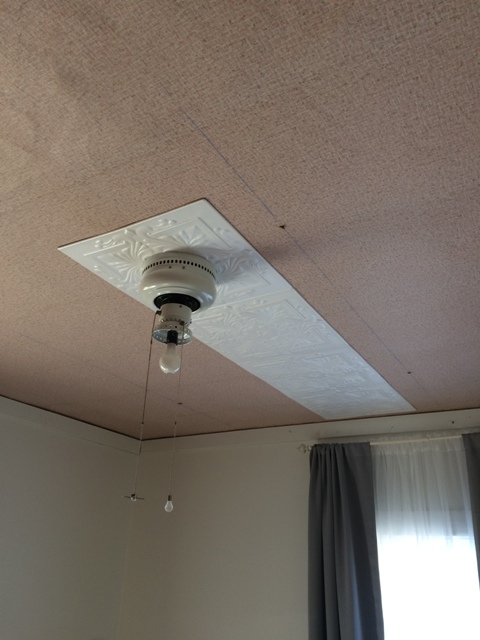 Since nothing in a century-old house is level or square, we installed one-by-two planks for a simple wood trim before we started gluing up the
decorative ceiling tiles
. The busy Victorian pattern is perfect for an old ceiling, as it helps to hide some of the slight dips in the old wood ceiling. We started in the center of the room, cutting a circle in the first ceiling tile so that it slid up perfectly over the fan base. Each one of these ceiling tiles is made of styrofoam so they are easy to handle, easy to cut, and each one glues easily to the ceiling. The ceiling was actually finished in just a couple of hours! We also caulked around the edge of the room to finish it out. I absolutely love how it looks like a fancy plaster ceiling and is very true to the original period that the house was built. In fact, we love the look so much that we are going to install the exact same decorative ceiling tiles in the master bedroom. I am beyond thrilled with how our guest room is coming together!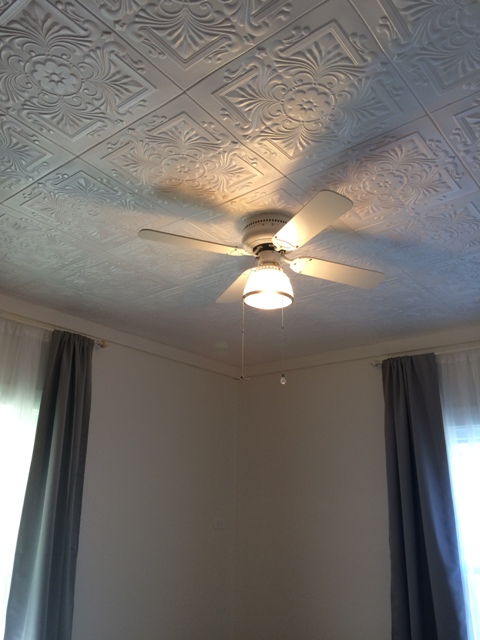 Transform your house in just a few hours with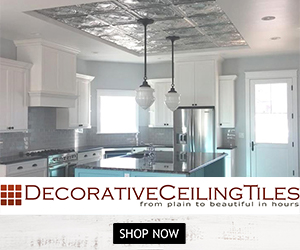 Be sure to follow my blog and social media accounts
so you can see all our renovations
as we restore our 1888 Kansas farmhouse!