Disclosure: I received product at no charge in exchange for my honest review.
Anyone who knows me, knows that I have an insatiable taste for sweets. One of my favorite gifts to give and receive is a mixed collection of scrumptious gourmet baked goods.
Dancing Deer
Baking Co. bakes up the most delicious brownies and cookies! My mouth was watering even before I opened the package.
I received the
Classic Deer Gift Hamper
and was delighted at all the goodies inside! Five different packages contained their Chocolate Chip Cookies, Molasses Cookies, Cranberry Orange Cookies, Caramel Sea Salt Squares, and Chocolate Chunk Brownies. Everything arrived in a darling reusable gift box, padded with crinkles, and tied with a pretty red bow - perfect for gift presentation!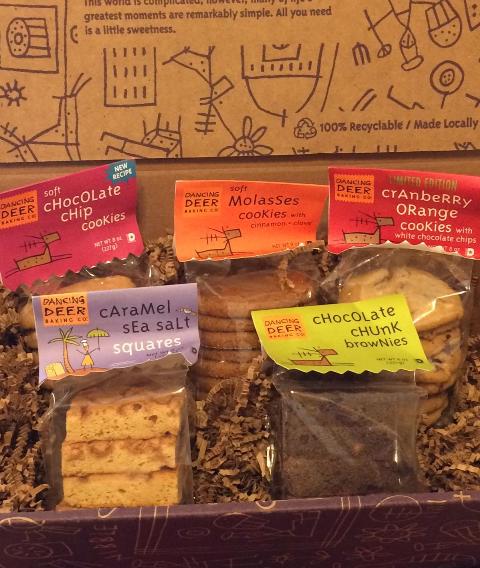 Dancing Deer
baked goods are always soft, fresh, and delicious. These gourmet gifts are always baked from scratch and are Kosher. They use pure, high-quality ingredients, blending traditional artisan baking with innovative flavor combinations, and they package their gourmet gifts with a professional yet whimsical tone.
The
Classic Deer Gift Hamper
comes with a total of 30 delectable cookies and brownies that simply melt in your mouth. Their sweet treats have won lots of awards and, once you taste one of their goodies, you will agree that they are simply amazing. This holiday season, give a gift of delicious gourmet goodness from Dancing Deer!