Disclosure: I received product at no charge in exchange for my honest review.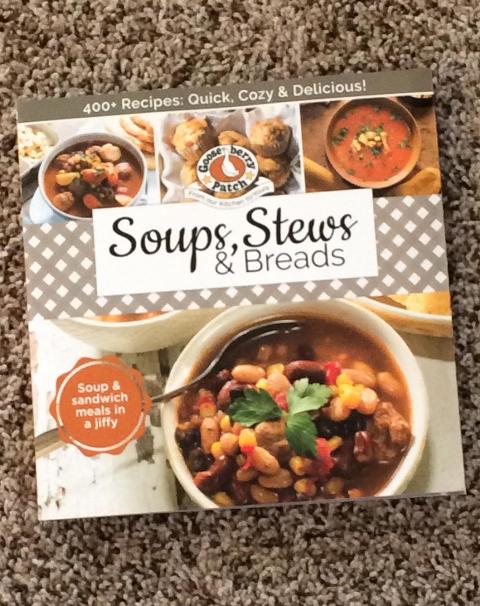 No kitchen is complete without cookbooks. This amazing publication by Gooseberry Patch is a huge collection of over 400 recipes.
Soups, Stews and Breads
offers you the ultimate in comfort food for the fall and winter. This big 9"x9" softback book features step by step directions and beautiful color photos that will make your mouth water. The front and back cover even have flaps to keep the cookbook open to the recipe you're making. I love this cookbook. It's a fabulous holiday gift idea!
You'll love making French Onion Soup, Beefy Hamburger Soup, and Cheesy Vegetable Soup. I never knew there were so many soups! Make hearty chowders, chilis, and stews in a jiffy with this handy cookbook. Do you love bread? Grandma Bel's Honey Muffins, Dakota Bread, and Soft Bread Pretzels are just a few recipes in the breads section. Learn how to easily make your own tasty croutons and crackers at home. There is even a chapter full of sandwich recipes to enjoy with your soup. They've included many quick-fix and slow-cooker recipes in this collection, plus there are tons of tips and serving ideas.
Soups, Stews and Breads
is the last soup cookbook you'll ever need!
Order Soups, Stews and Breads at