Disclosure: I received product at no charge in exchange for my honest review.
Meet
Polly Pineapple
, an all-natural, multi-texture rubber teething toy that will help soothe a child's gums through all stages of the teething process. Polly was created by gnomgnoms, who is on a mission to soothe the aching gums of teething babies while striving to alleviate childhood hunger in the United States. For every Polly Pineapple purchased, they will make a donation to a leading national hunger nonprofit to help feed a hungry child for an entire week - that's 21 meals!
Polly's various textures, from her smooth hands and feet to her nubby body and crown, help to massage sore gums. Her crown and feet can be used to soothe hard-to-reach back molars while her body and hands are perfect for front gums. At 7 inches tall x 5 inches wide, Polly is the perfect size for easy maneuvering. You can use Polly's built-in loop to secure her to a stroller or carrier so that she is always within reach and doesn't get lost.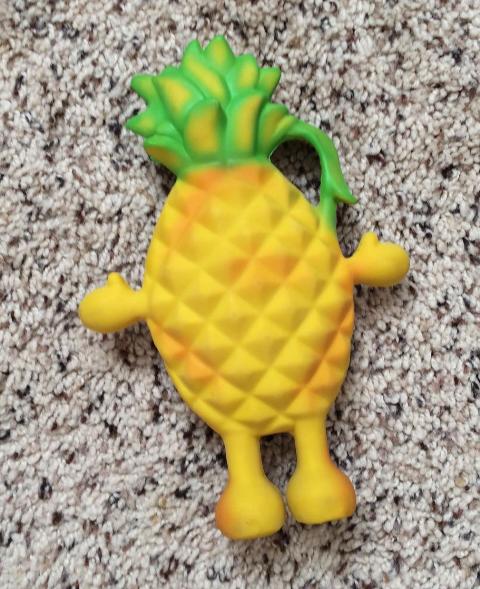 Polly is made from 100% natural rubber and she is free of dangerous chemicals like BPA, PVC, and phthalates. Polly is decorated with food grade paint, so babies are free to safely teeth and chew with abandon. She is hand-painted so each
teething toy
is unique. Polly Pineapple has been certified to conform to U.S. safety regulations according to the Consumer Product Safety Improvement Act and Consumer Product Safety Commission.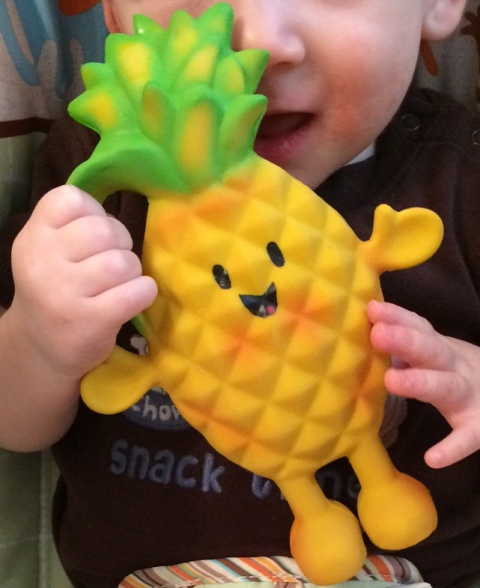 I showed
Polly Pineapple
to my eight-month old grandson and he squealed and reached out to hold it. He smiled and grabbed hold, turning her over and over, feeling her bumps with his hands and fingers. He hooked his thumb through the loop to hold Polly securely and she is just the right size for him. Polly is slightly squishy and somewhat soft, while still maintaining its shape.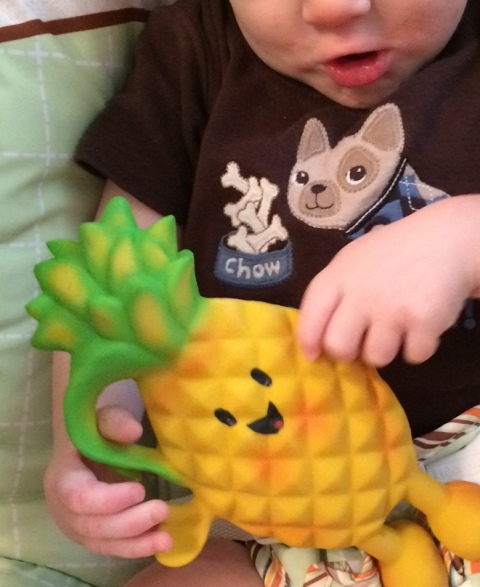 My grandson has two tiny baby teeth on the bottom and I suspect he may be trying to push a few out on the top soon. Polly Pineapple's crown is the perfect spot for him to gnaw on and he's been extremely happy gumming on this teether. It's such a cute toy and the bright yellow is very eye-catching. Polly is definitely baby-approved and nana-approved!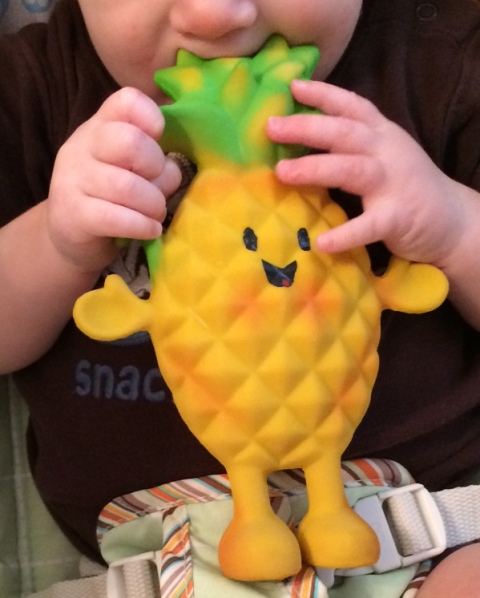 Order your Polly Pineapple at