Disclosure: I received product at no charge in exchange for my honest review.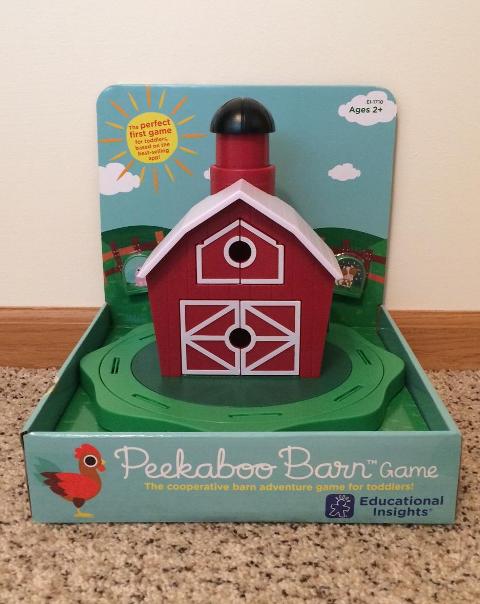 Bookstores are not just for books anymore! The
Peekaboo Barn Game
from Educational Insights is just one of the great learning toys available at Barnes and Noble. This barn adventure game is a wonderful cooperative game that teaches toddlers both animal recognition and animal sound recall, plus teaches them the difference between awake and asleep, all while developing large motor skills and small motor skills.
Peekaboo Barn
is made of sturdy plastic and comes with eight farm animal pieces and a barn. The animal pieces snap into the barn "grass" and can also stand on their own on a flat surface. Each animal piece shows daytime on one side and nighttime on the other. The barn doors open and close, and when the silo is pressed down the animals spin around the barn.
To begin the game play, snap all the animals onto the "grass" with the awake side facing out. Take turns pushing down the silo spinner to make the animals spin around the barn. When the animals stop, the one in front of the barn is sleepy. Take that animal from the "grass" and make the animal sound, then place it in the barn to sleep, with the sleepy side facing out.
If the rooster lands in front of the barn door, players say "Cock A Doodle Doo!" to wake all the sleepy animals in the barn and place them back out onto the grass. You can play until all the animals are sleeping in the barn, except for the rooster. Peekaboo Barn is fun to play as a game, and is also a wonderful open-ended toy for individual play.
I love
Peekaboo Barn Game
because it is a game that is easy enough for toddlers to understand, provides lots of fun learning opportunities, stores easily and doesn't come with tons of playing pieces, encourages full interaction of several different developmental skills, can be played with multiple players or individually, and is well-constructed to withstand toddler handling. It's a great gift idea!