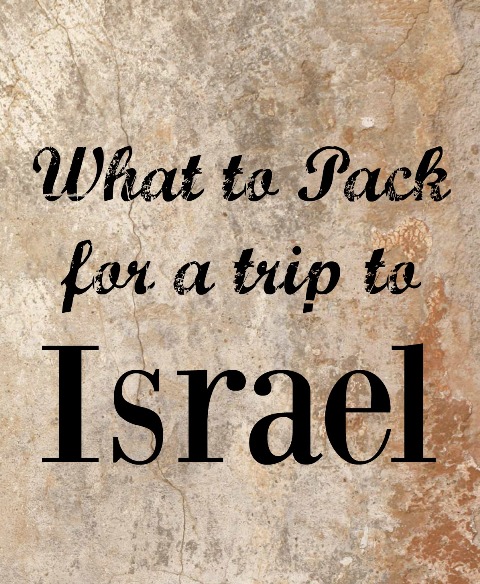 I am so excited! I've been invited by the
Israel Ministry of Tourism
to travel to the evangelical highlights across the country. In just a weeks, I'll be off on my grand adventure! Packing for an international trip requires extra research, since the customs are often different from what I'm accustomed to in America. I've put together a list of items I'll need for my journey and thought I'd share it with you. My trip will span eight days. If I've missed something that you know I'll need to pack, please list it in the comment section below.
Follow along on my trip:
My Twitter -
https://twitter.com/Weidknecht
My Instagram -
https://www.instagram.com/lweidknecht/
I will also be posting detailed blog posts and lots of pictures upon my return, so be sure to subscribe to my blog emails too -
http://feeds.feedblitz.com/weidknecht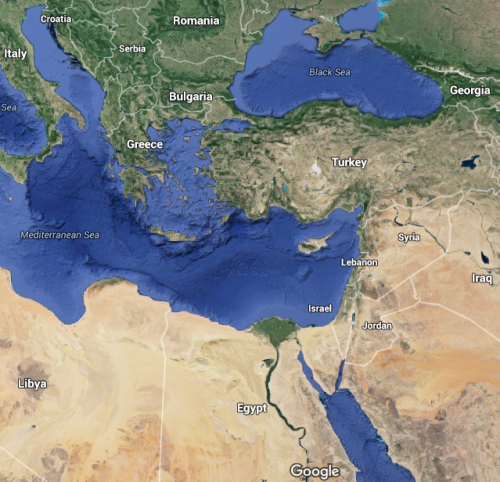 What to Pack for a trip to Israel:
I will be trying to get everything into one carry-on suitcase on wheels (under 45" circumference and under 18 lbs. packed) and one smaller bag for easier airport navigation and to minimize my storage needs for the touring transportation. I will be wearing my
RFID-blocking travel vest
as well.
My list below is for winter traveling. If you're traveling in the summer, you'll want to leave out the winter items and pack more summer-appropriate clothing (however, you should still take a jacket for cooler nights and higher elevations).
Clothing:
Note: Do not pack tight-fitting clothes. Think modest and casual.
During February, the average temperature is around 55 degrees,
but can be warmer or colder depending on latitude and altitude.
Rainfall is common in winter, especially in the north.
Pants (no jeans, as they aren't allowed in the holy sites) - I'm taking cotton slacks
Long skirts (the longer the better)
Long-sleeve shirts and blouses (some holy sites won't allow arms/shoulders showing)
Undershirts (to layer for colder places) - I'm taking white tshirts
Sweaters
Sleepwear
Coat or jacket
Comfortable walking shoes
Comfortable sandals
Scarf that can cover your head (for some holy sites)
Sun hat
Sunglasses
Winter cap, winter scarf, and winter gloves
Socks
Undergarments
Raincoat and small travel umbrella
Swimming suit (It's possible to swim in the Dead Sea in winter)
Small swim towel
Swim shoes (Bring large ziploc bags to store wet items)
Wristwatch
Simple, inexpensive jewelry
TRAVEL TIP: Instead of folding clothes, roll them before putting them in the suitcase and they won't wrinkle near as much.
Care Items:
Where possible, use travel-sized products.
Sunscreen
Prescription medications (with a copy of the original prescription)
Over-the-counter medications for a headache, an upset stomach, and allergies
Hand sanitizer
Facial tissues
Toilet wipes (in case toilet paper isn't available)
(Some public toilets charge a small user fee.)
Glasses and contact lenses
Hair brush
Hair ties
Shampoo and conditioner
Deodorant
Lotion
Chewing gum (to freshen breath on the long airplane ride)
Toothpaste and toothbrush
Shaving razor
Qtips
Bandaids
Soap bar in ziploc bag
Cosmetics
Tech Gadgets:
Electrical outlet adapter set (US is 110 v, Israel is 220 v 50 cycles)
Small laptop and cord
Tablet and cord
Cell phone and cord
MP3 music player and cord
Backup battery sources and cords
Digital camera, sd card, USB cord, and battery chargers
(ASK before you take pictures. In some places it isn't allowed.)
Other:
Passport (ALWAYS keep it with you)
(Travel Visas (and special vaccinations) NOT currently required for Americans)
(Make 2 copies of your passport - one to leave home, one to carry separate
from your passport)
Travel documents (airplane tickets, for example)
Identification card
Credit Cards (Mastercard and Visa accepted most widely)
Cash (many places accept small USD)
(best to carry only $1 USD bills and $5 USD bills, and exchange large bills at airport)
Journal and Pens
Neck pillow and blanket (It's a long plane ride from the USA)
Pre-packaged snacks
Refillable water bottle
Books for the plane ride
A compact Bible (or download one on your phone)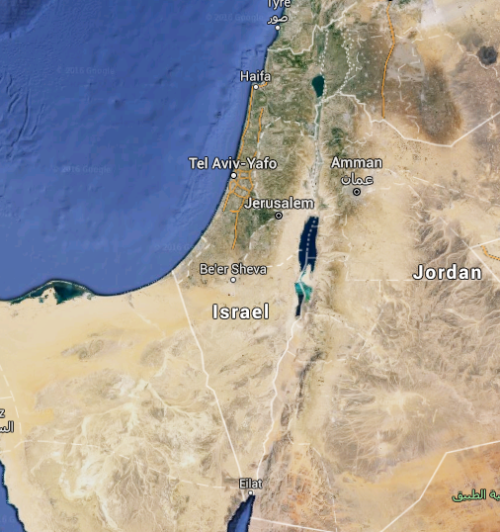 Other helpful information:
US Embassy in Israel
U.S. Citizens needing immediate assistance
may call the Embassy at any time [972] (03) 519-7575
Estimated cash exchange
(
currency rates
as of Jan 2016)
$1 USD is equal to about 4 NIS (new Israeli shekel)
The shekel comes in denominations of 20, 50, 100, and 200
1 shekel is 100 agorat
$5 USD is about 20 NIS
$12 USD is about 50 NIS
$25 USD is about 100 NIS
$50 USD is about 200 NIS
Helpful phrases in Hebrew
Please - B'vakashah
Thank you - Todah
Excuse me - Slichah
Okay - B'seder
Do you speak English? - Medaber Anglit?
Where is the bathroom? - Eyfo ha-sherutim?
Cell phone usage
If you want to be able to access your social media accounts when traveling internationally (without racking up expensive data plan costs), most devices will allow you to put your cell phone on Airplane Mode and still allow you to use a locally available Wifi service (such as a hotel or internet cafe that offers free Wifi to guests), if you go into settings and manually turn on the Wifi after putting your cell phone in Airplane Mode. If you absolutely need to make a phone call on your cell phone, simply turn your Airplane Mode off during the call.
Customs Passage
Be prepared for customs to go through everything in your suitcase. Also be prepared to answer questions about why you are entering the country. You'll need to fill out a
declaration form
when you leave.
Read about my trip to Israel
HERE
.
Follow me on
Facebook
and
Twitter
.
Want to travel to Israel?