#sponsored travel
Nisbet Plantation Beach Club
is one of the nicest restaurants on the island of Nevis. Even Prince Charles has visited Nisbet. Since I hadn't yet had a blue tropical cocktail during my week on Nevis, I stated with their delicious Tropical Dream.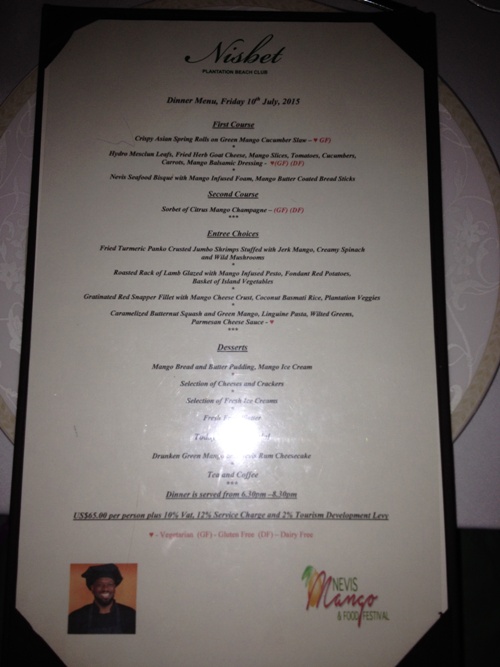 I dined with Alistair Forrest, General Manager of Nisbet and a group of eight others, including journalists and friends from the
Nevis Tourism Authority
. The dinner menu was prepared by guest chef Gregory Austin of Barbados and it was fabulous meal.
We passed around a bread basket filled with lots of different types of breads and rolls. There was creamy fresh butter and fresh mango spread to top the breads.
For my appetizer, I chose the absolutely exquisite Seafood Bisque with Mango Infused Foam and Mango Coated Butter Breadsticks. The service at Nisbet is excellent and the wines never stopped flowing!
I'm not sure whose idea it was to serve Sorbet of Citrus Mango Champagne for an appetizer dessert, but I'm all for eating dessert before dinner just to make sure I have room for it!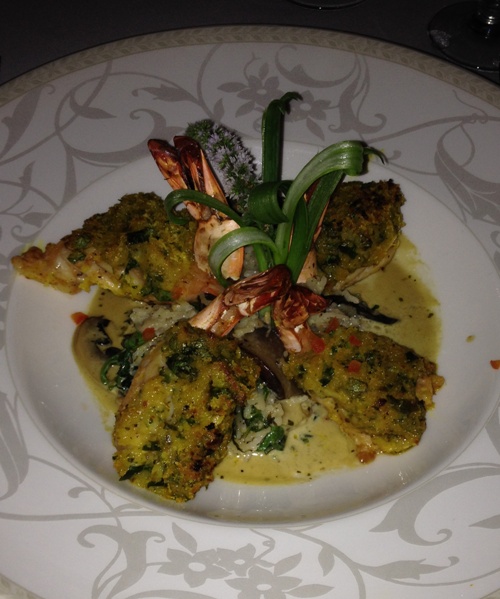 I had some incredibly scrumptious shrimp for dinner, more specifically it was the Fried Turmeric Panko Crusted Jumbo Shrimps Stuffed with Jerk Mango, Creamy Spinach, and Wild Mushrooms.
For our second dessert, I thoroughly enjoyed stuffing myself with Mango Cheesecake. Gregory Austin is a fabulous chef and Nisbet is the perfect atmosphere for a delightful meal. It was the ultimate meal for my last meal on Nevis!
Some day I will visit Nevis again. Read more about my trip
HERE
.
Easily share and pin this post with the buttons below!